February 11, 2013 -
Dave Miller
Top 25 prospects in the Class of 2014
Over the weekend I offered a sneak peek at the top prospects in the Class of 2014.
Today, let's take a glance at the initial rankings of the Top 25 junior prep players in the country. And at the end of the summer camp season, I will re-evaluate these prospects and update this list.
1. DE Da'Shawn Hand, Woodbridge High School (Woodbridge, VA)
The 6-4, 245-pounder recorded 110 tackles (including a whopping 40 for loss), 16 sacks and three fumble recoveries in 2012.
2. DT Andrew Brown, Oscar Frommel Smith High School (Chesapeake, VA)
The 6-4, 285-pounder finished his junior campaign with 82 tackles (including 12 for loss), and he also forced four fumbles.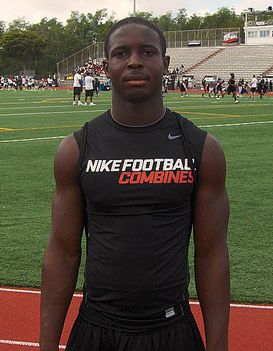 Sony Michel is the nation's top junior RB.
3. RB Sony Michel, American Heritage High School (Plantation, FL)
The 5-11, 194-pounder has very good vision, patience and speed along with deceptive power and good inside toughness.
4. RB Leonard Fournette, St. Augustine High School (New Orleans, LA)
Fournette rushed for 2,136 yards and 31 touchdowns, averaging 11.2 yards per carry, during his junior campaign. The 6-1, 232-pounder added 15 receptions for 313 yards and three touchdowns and also returned three kicks for scores.
5. QB Keller Chryst, Palo Alto High School (Palo Alto, CA)
The 6-4, 225-pound pro-style signal-caller, who has an offer from USC, has good poise and possesses very good fundamentals.
6. LB Raekwon McMillan, Liberty County High School (Hinesville, GA)
The 6-2, 234-pounder is the best overall player in the state of Georgia and the best overall inside linebacker for the class of 2014.
7. CB Marlon Humphrey, Hoover High School (Hoover, AL)
The 6-foot, 179-pounder is the top player in the state of Alabama for 2014. He is the son of Bobby Humphrey, the former outstanding tailback at Alabama.
8. RB Bo Scarbrough, Northridge High School (Tuscaloosa, AL)
The 6-2, 215-pounder, who has already given a verbal commitment to Alabama, has very good size, good vision and shiftiness as well as breakaway speed. He also is a solid pass-catcher out of the backfield. There is a chance he could develop into a very good outside linebacker.
9. OT Cameron Robinson, West Monroe High School (West Monroe, LA)
The 6-6, 325-pounder is a very good run-blocker at this stage.
10. S/WR John Smith, Long Beach Poly High School (Long Beach, CA)
The 6-1, 185-pound two-way standout, known as "JuJu," is one of Southern California's best in the Class of 2014.
11. WR Ermon Lane, Homestead Senior High School (Homestead, FL)
The 6-2, 193-pounder, who is considered the top receiver in the Sunshine State, is a good route runner with very good leaping ability.
12. CB Jabrill Peppers, Paramus Catholic High School (Paramus, N.J.)
The 6-foot, 185-pounder has explosive speed and very good ball skills.
13. S Quin Blanding, Bayside High School (Virginia Beach, Va.)
The 6-2, 196-pounder has good size and is rangy, able to play the run and defend the pass.
CONTINUE TO PAGE 2 FOR PROSPECTS NOS. 14-25