April 29, 2014 -
Dave Miller
Top 25 prospects in the Class of 2015
With National Signing Day for the Class of 2014 in the rearview mirror, let's take our first glance at the best high school football players in the Class of 2015.
Here is the National Football Post's ranking of the Top 25 players finishing up their junior years of high school.
1. DT Trenton Thompson, Westover High School (Albany, GA)
The 6-4, 311-pounder is a physical defender who can be a disruptive interior pass rusher at the next level if he continues to develop his raw but effective game. He was named the Rivals.com Junior of the Year for his play last season (38 tackles for loss and 12 sacks) and has offers from big-name powers such as Auburn, Florida State and Alabama.
2. CB Kevin Toliver II, Trinity Christian Academy (Jacksonville, FL)
The 6-2, 188-pounder, who is long and fast, has given a verbal pledge to LSU. He should match up well with some of the bigger receivers in the college game.
3. DE Byron Cowart, Armwood High School (Seffner, FL)
The 6-3, 254-pounder has a lot of physical tools that have yet to be polished. He could ultimately develop into a solid defensive tackle as well if not as a strong-side end. Cowart, who made 72 tackles and had 13 sacks last fall, said that Oregon is leading right now after reportedly being a Florida lean.
4. DE CeCe Jefferson, Baker County High School (Glen Saint Mary, FL)
The 6-3, 248-pounder is a versatile defender who could be an end in a traditional 4-3 or possibly as an outisde linebacker in a 3-4. He has a high ceiling, and he is expected to visit UCLA and Alabama after being impressed with his Florida unofficial visits. Jefferson is friends with Cowart, and they've discussed possibly signing with the same school.
5. OT Mitch Hyatt, North Gwinnett High School (Suwanee, GA)
The 6-6, 258-pounder, who is committed to Clemson, projects to be a star offensive lineman if he adds weight to his frame.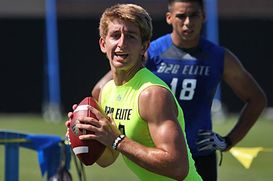 Josh Rosen has given his pledge to UCLA.
6. QB Josh Rosen, St. John Bosco High School (Bellflower, CA)
The 6-4, 200-pound pocket passer, who has given his verbal pledge to UCLA, is a very smart signal-caller who possesses very good mechanics. He has a chance to contribute immediately.
7. RB Damien Harris, Madison Southern High School (Berea, KY)
The 5-11, 205-pounder is a strong, compact runner who also possesses very good top-end speed. There is a ton of interest in his pledge after he decommitted from Michigan in January. The Wolverines do, however, remain in the mix.
8. DT Rasheem Green, Junipero Serra High School (Gardena, CA)
The 6-5, 289-pounder is a very physical defender with good enough athleticism to play either tackle or end depending on the scheme. USC and UCLA are considered the favorites to land his commitment, which could come in the U.S. Army All-American Bowl next January.
9. ATH George Campbell, East Lake High School (Tarpon Springs, FL)
The 6-4, 187-pounder has very good size and athleticism, which makes him very versatile. He may project best as a wide receiver or safety, but Michigan recruited him as a WR. Campbell decommitted from the Wolverines, but they remain in the mix for his pledge.
10. CB Iman Marshall, Long Beach Polytechnic High School (Long Beach, CA)
The 6-1, 195-pounder has good size and ball skills, and he is a sound tackler who is strong versus the run. USC could be the leader for his services.
11. OT Martez Ivey, Apopka High School (Apopka, FL)
The 6-6, 268-pounder needs to continue to build up his frame but his strength and athleticism are top-notch. Florida is considered the leader for his commitment.
12. CB Kendall Sheffield, Thurgood Marshall High School (Missouri City, TX)
The 5-11, 180-pounder has very good speed and range, and he could emerge as a shutdown corner at the next level. Keep an eye on Oregon during his recruitment.
13. DT Daylon Mack, Gladewater High School (Gladewater, TX)
The 6-2, 307-pounder, who is verbally committed to Texas A&M, could contribute right away because he has good strength and a quick first step.
14. CB Minkah Fitzpatrick, Saint Peter's Prep (Jersey City, NJ)
The 6-foot, 190-pounder, who is committed to Alabama, plays with very good technique and seems to be one of the safer cornerbacks in this class.
15. WR Calvin Ridley, Monarch High School (Coconut Creek, FL)
The 6-1, 169-pound Alabama commit is a very athletic receiver with great ball skills. If he develops as a route runner, he should be able to emerge as an elite receiver at the next level.
16. OLB Malik Jefferson, Poteet High School (Mesquite, TX)
The 6-2, 220-pounder is athletic, quick, aggressive and a big hitter. He is sound against both the run and pass and should be able to contribute right away. He could land at Texas A&M.
17. DT Shy Tuttle, North Davidson High School (Lexington, NC)
The 6-3, 310-pounder has very good athleticism and quickness for his size. If he continues to develop his technique, he could be a dominant defender. Tuttle has offers from major programs such as Alabama, Clemson, Texas, Miami (FL) and Florida State as well as homestate North Carolina.
18. S Derwin James Jr., Haines City High School (Haines City, FL)
The 6-2, 202-pound Florida State commit has very good athleticism, range and instincts.
19. ATH Terry Godwin, Callaway High School (Hogansville, GA)
The 6-foot, 170-pound Georgia commit could ultimately end up at cornerback, but he has the athleticism and skill to contribute on offense as a wide receiver. He also is a very good kick returner.
20. DT Daron Payne, Shades Valley High School (Birmingham, AL)
The 6-3, 329-pounder has surprisingly good athleticism for a player his size. As long as he continues to fine-tune his technique, he should be a solid starter inside. Keep an eye on Auburn for his pledge.
21. WR Christian Kirk, Saguaro High School (Scottsdale, AZ)
The 5-11, 197-pounder is a bit of a tweener who can play both running back and wide receiver. He has good agility and could be a nice slot weapon or jack-of-all-trades in a spread offense. Ohio State could be the leader.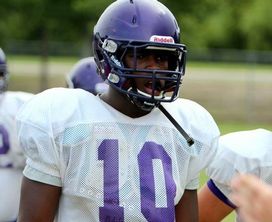 Jacques Patrick is one of the more complete running backs in the 2015 class.
22. RB Jacques Patrick, Timber Creek High School (Orlando, FL)
The 6-3, 233-pounder is one of the better complete running backs in this class who has a nice size-speed combination. His final list includes Alabama and Auburn along with Florida, Florida State, Michigan, Notre Dame and Ohio State. He rushed for 2,153 yards and 30 touchdowns as a junior last season and plans on making his decision in September.
23. OLB Justin Hilliard, Saint Xavier High School (Cincinnati, OH)
The 6-2, 230-pounder is an aggressive east-to-west 'backer who also rushes the passer well. He finished his junior campaign with 80 tackles and five sacks. Iowa signed his older brother in February.
24. DE Terry Beckner Jr., East Saint Louis High School (East Saint Louis, IL)
The 6-4, 285-pounder has good size, strength and athleticism. He may be able to line up all across the D-Line if he continues to physically develop. Beckner Jr. has offers from major programs such as USC, Florida State, Michigan, LSU and Florida.
25. RB Ronald Jones II, McKinney North High School (McKinney, TX)
The 6-foot, 185-pounder, who is committed to Oklahoma State, doesn't exactly look the part of a running back, but he could add bulk. His explosiveness is unquestioned, though.
Other players to monitor: QB Jarrett Stidham (Stephenville, TX), ATH Torrance Gibson (Plantation, FL), ATH Kerryon Johnson (Madison, AL), WR Tyron Johnson (New Orleans, LA) and OG Jalin Barnett (Lawton, OK).
Dave Miller, the college football editor and writer for the National Football Post, is on Twitter @Miller_Dave.