February 04, 2013 -
Dave Miller
Top 25 uncommitted prospects in the 2013 class
Recruiting is front and center in the world of college football as National Signing Day approaches on Wednesday.
As we know, recruiting is the lifeblood of a program, so it comes as no surprise that Signing Day piques the interest of college football fans across the country,
I have been tracking some of the top prep players in the Class of 2013 throughout the summer, fall and winter, and some have already given a pledge. However, many of the biggest programs in America continue to hotly pursue the top talents who have yet to make up their minds.
Today, let's take a look at the final Top 25 uncommitted list, with new names added to take the place of those top athletes who have given their verbal. Of course, keep in mind that nothing is official until each prep player sends in his Letter of Intent, beginning on National Signing Day (there are always a couple of players who makes a decision past Signing Day).
1. DE Robert Nkemdiche: Grayson High School; Loganville, GA
The 6-5, 265-pounder de-committed from Clemson in November and looks like a done deal to Ole Miss. The nation's best overall player could play defensive end, outside linebacker in a 3-4 scheme or even defensive tackle in a 4-3, but no matter where he lines up he will be explosive. While he took an official to LSU this past weekend, expect him to land with the Rebels. His brother plays in Oxford and his mother wants him to attend the school. Hugh Freeze had a standout debut campaign in Oxford and is now poised to bring in a Top 10 class — and possibly Top 5.
2. OT Laremy Tunsil: Columbia High School; Lake City, FL
The 6-6, 295-pounder had the top undeclared spot until Nkemdiche de-committed. Tunsil has great athleticism for an offensive tackle with the body type to add weight without losing effectiveness. Georgia and Alabama were at the top of his list, but he ended up taking an official to Ole Miss. And it went very well. Some recruiting analysts now believe he is an Ole Miss lean.
3. CB Mackensie Alexander: Immokalee High School; Immokalee, FL
The 5-11, 175-pounder de-committed from Tennessee last March after his stock was rising, and his recruitment is now anyone's guess. He has offers from major powers such as Alabama, LSU and Florida State, but this one is completely unpredictable. He is expected to choose among Auburn, Clemson, Mississippi State and Texas A&M. His twin brother, Mackenro Alexander, also is expected to sign with a big school and could pick the same program as Mackensie.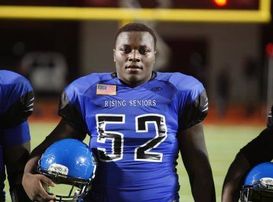 Auburn, Clemson, Georgia and Alabama are considered the favorites for Montravius Adams.
4. DT Montravius Adams: Dooly County High School; Vienna, GA
The 6-3, 281-pounder has taken a lot of visits, but Clemson and Auburn may have the edge. He has good quickness for his size, and Georgia would love to keep him in-state. Auburn, Clemson, Georgia and Alabama are his favorites.
5. OLB Matthew Thomas: Booker T. Washington High School; Miami, FL
It has been assumed for awhile now that the 6-3, 205-pounder would decide between Miami (FL) and Florida State. Georgia and Alabama are still in the mix, but look for him to stay in-state. The Seminoles may have the edge.
6. LB Reuben Foster: Auburn High School; Auburn, AL
The 6-2, 242-pounder is a former Alabama and Auburn commit. Both schools are still in the race, but Georgia has some momentum. The linebacker is expected to choose between the Tigers, the Crimson Tide and the Bulldogs.
7. DT A'Shawn Robinson: Arlington Heights High School; Fort Worth, TX
The 6-5, 304-pounder was committed to Texas for almost a year before de-committing. According to OrangeBloods.com, Robinson informed Texas coaches that he would instead be signing with Alabama on National Signing Day.
8. WR Stacy Coley: Northeast High School; Oakland Park, FL
Miami (FL) is hotly pursuing the 6-1, 173-pounder, but Florida State and Ole Miss continue to be in the mix as well. He is a smooth runner and has good height and length. He just needs to add strength to his frame.
9. S Antonio Conner: South Panola High School; Batesville, MS
The 6-2, 200-pounder's decision will likely come down to Ole Miss and Alabama. Mississippi State, Georgia and LSU are also in the mix, though. I think he will stay in-state and continue his high school's pipeline to Ole Miss. There are five former South Panola players slated to be on next year's Ole Miss roster: athlete Nickolas Brassell, offensive lineman Austin Douglas, running back Nicholas Parker plus defensive linemen Temario Strong and Isaac Gross.
10. WR Jordan Cunningham: University School of Nova South; Fort Lauderdale, FL
The 6-1, 175-pounder has good athleticism and speed and is not afraid of making a tough catch. Cunningham has good awareness of surrounding defenders and has good body control. He is entertaining offers from Oklahoma State, Stanford and Vanderbilt, but Florida State may have the edge for the Miami native.
11. S Vonn Bell: Ridgeland High School; Rossville, GA
The 6-foot, 190-pounder is versatile enough to play at a high level at cornerback because he has good ball skills and good speed. But he's also a hard hitter who can play well at the safety position. He is down to Alabama, Ohio State and Tennessee. The Crimson Tide may have the edge, but look for Urban Meyer and Butch Jones to close hard.
12. DT Eddie Vanderdoes: Placer High School; Auburn, CA
The 6-3, 310-pounder is a tough player who was once committed to USC. Notre Dame is coming on strong but Alabama remains in the mix as well. I still think he ends up with the Trojans, though. UCLA and Washington are also in the mix.
13. RB Alex Collins: South Plantation High School; Plantation, FL
The 5-11, 195-pounder is a former Miami (FL) commitment. The explosive athlete could be a huge "get" for Arkansas because Bret Bielema recruited him when he was at Wisconsin. Miami, Arkansas, Wisconsin, and Florida are reportedly in the mix, though it's really down to the Hurricanes and Hogs I believe.
CONTINUE TO PAGE 2 FOR PROSPECTS NOS. 14-25