June 23, 2014 -
Dave Miller
Top 25 uncommitted prospects in the 2015 class
Earlier this offseason the National Football Post released its list of the Top 25 players finishing up their junior years of high school.
Now that some of those standout performers have since given pledges to various programs, let's take a glance at the best uncommitted high school football players in the Class of 2015.
1. DT Trenton Thompson, Westover High School (Albany, GA)
The 6-4, 311-pounder is a very physical defender who can be a disruptive interior pass rusher at the next level if he continues to develop his raw game. The Rivals.com Junior of the Year had 38 tackles for loss and 12 sacks last fall and has offers from big-name powers such as Auburn, Alabama and Florida State.
2. DE Byron Cowart, Armwood High School (Seffner, FL)
The 6-3, 254-pounder has a variety of intriguing physical tools that have yet to be fully polished. He could develop into a nice defensive tackle but projects best as a strong-side end. Cowart, who recorded 72 tackles and 13 sacks last year, has been linked strongest to Florida and Oregon.
3. DE CeCe Jefferson, Baker County High School (Glen Saint Mary, FL)
The 6-3, 248-pounder is a versatile defender with a high ceiling who could play end in a traditional 4-3 or outside linebacker in a 3-4. He is friends with Cowart, and they've discussed possibly signing with the same school. Florida has a great shot for his services.
4. OT Martez Ivey, Apopka High School (Apopka, FL)
The 6-6, 268-pounder should be able to build up his frame, but he already has very good strength and athleticism. Florida is considered the leader for his commitment, but Alabama, Auburn, Florida State and LSU round out his top five. And his teammate and friend, fullback Chandler Cox, is committed to Auburn.
5. DT Rasheem Green, Junipero Serra High School (Gardena, CA)
The 6-5, 289-pounder is a physical defender with the athleticism to play either tackle or end depending on the scheme. USC and UCLA are considered the favorites to land his commitment, which could come in the U.S. Army All-American Bowl next January.
6. CB Kendall Sheffield, Thurgood Marshall High School (Missouri City, TX)
The 5-11, 180-pounder has very good speed and range, and he has a chance to develop into a shutdown corner at the next level. Keep an eye on Texas A&M during his recruitment, but don't sleep on Oregon either.
7. CB Iman Marshall, Long Beach Polytechnic High School (Long Beach, CA)
The 6-1, 195-pounder has very good size and ball skills, and he is strong against the run. USC could be the leader for his services, but Stanford is a major player as well.
8. RB Damien Harris, Madison Southern High School (Berea, KY)
The 5-11, 205-pounder is a strong, compact runner with very good top-end speed. There is a lot of interest in his pledge after he decommitted from Michigan in January. The Wolverines do, however, remain in the mix along with Ohio State, Kentucky, Alabama, Florida, Oregon, Notre Dame and Florida State. Harris rushed for 2,621 yards and 42 touchdowns as a junior.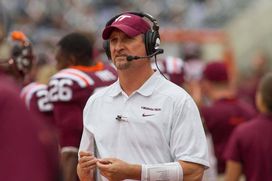 Will Bud Foster get the chance to work with DE Josh Sweat at Virginia Tech?
9. DE Josh Sweat, Oscar Frommel Smith High School (Chesapeake, VA)
Virginia Tech would love to land the 6-5, 229-pounder after being able to bring in some of his school's top players in the past. But the Hokies have missed out on top in-state products Andrew Brown and Da'Shawn Hand recently, and powers such as Georgia and Florida State are in the mix for Sweat's services.
10. ATH George Campbell, East Lake High School (Tarpon Springs, FL)
The 6-4, 187-pounder is a versatile prospect with very good size and athleticism. He may project best as a wide receiver or safety, but Michigan recruited him as a WR. Campbell decommitted from the Wolverines, but they remain in the mix for his pledge. However, keep an eye on Florida and Clemson in his recruitment.
11. OLB Malik Jefferson, Poteet High School (Mesquite, TX)
The 6-2, 220-pounder is athletic, quick, aggressive and a big hitter. He is very good against both the run and pass and should be able to contribute right away. He could land at Texas A&M, which is putting together the best class of any program outside of Alabama.
12. DT Shy Tuttle, North Davidson High School (Lexington, NC)
The 6-3, 310-pounder has good athleticism and quickness for his size. If he continues to develop his technique, he could be a dominant defender. Tuttle has offers from major programs such as Alabama, Clemson, Texas and Florida State as well as homestate North Carolina.
13. DE Terry Beckner Jr., East Saint Louis High School (East Saint Louis, IL)
The 6-4, 285-pounder has very good size, strength and athleticism. He could become a versatile weapon across the D-Line if he physically develops. Beckner Jr. has offers from major programs such as USC, Florida State, Michigan, LSU and Florida. But Missouri, which has developed NFL talent up front, would love to land him.
14. OLB Justin Hilliard, Saint Xavier High School (Cincinnati, OH)
The 6-2, 230-pounder is an aggressive east-to-west 'backer who also rushes the passer well. He finished his junior campaign with 80 tackles and five sacks. Iowa signed his older brother in February, and we'll find out on July 2 where he will play as he decides between the Hawkeyes, Alabama, Notre Dame, Ohio State and Michigan.
15. DT Daron Payne, Shades Valley High School (Birmingham, AL)
The 6-3, 329-pounder has nice athleticism for a player his size. As long as he continues to fine-tune his technique, he should be a solid starter inside. Alabama and Auburn are battling for the Birmingham native's services, but he grew up an Auburn fan.
16. ATH Torrance Gibson, American Heritage High School (Plantation, FL)
The 6-5, 198-pounder is being recruited as a dual-threat quarterback, but he is very raw and could ultimately end up at receiver. Keep an eye on Tennessee and Auburn for his pledge.
17. WR Tyron Johnson, Warren Easton High School (New Orleans, LA)
The 6-1, 185-pounder is a good route runner with good hands. LSU has a very good chance of landing him, but Texas Tech, Texas A&M and Florida are among others in consideration as well. He plans to announce his commitment at the Under Armour All-America Game in January.
18. DT Tim Settle, Stonewall Jackson High School (Manassas, VA)
The 6-3, 325-pounder is favoring Clemson, but Tennessee and Florida State are also in the running. He's one of the best interior defenders in the nation.
19. WR Christian Kirk, Saguaro High School (Scottsdale, AZ)
The 5-11, 197-pounder is a tweener who can play both running back and wide receiver. He has good agility and could be a nice slot weapon or jack-of-all-trades in a spread offense. Ohio State, Texas A&M and Oregon are among his suitors.
20. RB Jacques Patrick, Timber Creek High School (Orlando, FL)
The 6-3, 233-pounder is a well-rounded back with a nice size-speed combination. He rushed for 2,15 3 yards and 30 touchdowns as a junior last season and plans on announcing his five finalists at Nike's The Opening in July. Among the schools in the mix are Florida State, Miami (FL), Florida and Michigan.
21. OG Jalin Barnett, Lawton High School (Lawton, OK)
The 6-4, 315-pounder has a chance to start right away wherever he ends up. Keep an eye on Arkansas, but he has offers from several major programs including Alabama, Oklahoma, Auburn and Stanford.
22. DE Keisean Lucier-South, Orange Lutheran High School (Orange, CA)
The 6-5, 218-pounder is one of the best prospects out West. UCLA is considered one of his favorites, but other major programs are involved in the recruitment of the raw but very athletic pass rusher.
23. DE Jashon Cornell, Cretin-Derham Hall High School (Saint Paul, MN)
The 6-3, 265-pounder has a variety of top schools recruiting him, but keep an eye on Ohio State and Penn State. The pass rusher has good size and strength.
24. CB Tarvarus McFadden, American Heritage High School (Plantation, FL)
The 6-3, 192-pounder, who is teammates with ATH/dual-threat QB Torrance Gibson, could go the SEC route and land at Auburn or LSU. But Florida State may be the team to beat.
25. S Rashad Roundtree, Lakeside High School (Evans, GA)
The 6-1, 195-pounder holds offers from powers such as Auburn, Alabama, Georgia and Clemson. But don't dismiss Duke, although the Blue Devils face an obvious uphill battle. However, David Cutcliffe's program was the first to offer him.
Other players to monitor: ILB John Houston, Jr. (Gardena, CA), DT Kahlil McKenzie (Concord, CA), DE Canton Kaumatule (Honolulu, HI), QB Travis Waller (Anaheim, CA) and DE Jalen Dalton (Clemmons, NC).
Dave Miller, the college football editor for the National Football Post, is on Twitter @Miller_Dave.