December 21, 2011 -
Barry Dorey
Top Class of 2012 QB Kiel closing in on a decision
Gunner Kiel, who earlier had committed to Kevin Wilson and Indiana but decided to re-evaluate his options, is close to making his final decision and will likely choose between these three schools: LSU, Notre Dame and Vanderbilt.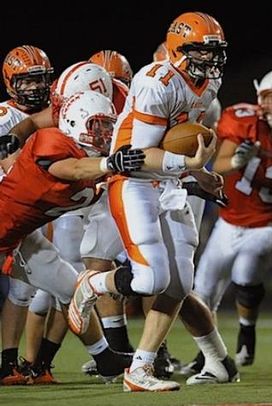 Gunner Kiel is close to making his college destination known.
The 6-4, 215-pounder, who was named Indiana Mr. Football by the Indianapolis Star and will graduate early from Columbus East High School to enroll in a university in January, said he plans to have a decision made by Christmas.
"It'll be a gut feeling," said Kiel, who was a one-time commit to the hometown Hoosiers. "It's been a very hard decision."
Kiel led his team to a 12-2 record in his senior season, passing for 2,517 yards and 28 touchdowns while rushing for 482 yards and 11 scores. He has good arm strength, nice command of the offense and enough mobility to be effective while scrambling.
As he accepted the Mr. Football trophy at Tuesday's Columbus East-Columbus North boys basketball game, students chanted "LSU! LSU!"
Do his peers perhaps have the inside scoop on where he will land?
Being the top-ranked team in the nation never hurt on the recruiting trail. Stay tuned.
Video courtesy of RedshirtScouting.
Email dave.miller@nationalfootballpost.com or follow me on Twitter at Miller_Dave