March 13, 2012 -
Dave Miller
Top Class of 2013 recruit Nkemdiche visits Clemson again
Shortly after visiting Ole Miss, top Class of 2013 prospect Robert Nkemdiche visited Clemson as the recruitment of the nation's best overall player heats up less than a year away from National Signing Day.
On Monday, Nkemdiche took a return trip to Clemson for the second week in a row with best friend David Kamara, a defensive back and teammate at Grayson High School (Loganville, Georgia). The Tigers offered a football scholarship to Kamara, a step that some believe could be necessary if a team wants to land Nkemdiche. The best friends and teammates have stated that they want to go to school together.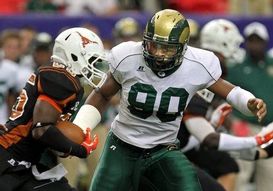 DE Robert Nkemdiche continues to visit schools along with teammate and best friend David Kamara.
It wasn't long ago that many felt Nkemdiche would eventually end up playing for Nick Saban at Alabama, but the defensive end is coming off of a great visit to Ole Miss. And it helps that his brother, Denzel, is already a Rebel. Sunny Nkemdiche, the two players' father, has already said he would love to see his boys play together but understands that the scenario may not play out that way.
Despite recently stating that first-year head coach Hugh Freeze and his staff have "a great chance" of seeing a reunion of brothers happen in Oxford after the Rebels offered Kamara, Nkemdiche told the Atlanta Journal-Constitution that he enjoyed his return trip to Clemson, where the two players spent about four hours at the team's spring practice, meeting with head coach Dabo Swinney and players.
Perhaps working in the Tigers' favor is that Grayson head coach Mickey Conn and Swinney played football and roomed together at Alabama. Clemson is also the leader for Grayson's top running back Wayne Gallman, who has 10 early offers.
Nkemdiche is slated to visit LSU on Saturday along with Kamara. Kamara will also visit Mississippi State very soon, while Nkemdiche is unsure about traveling to Starkville. Many Clemson fans are sure to be enthused by the fact that Kamara immediately declared the Tigers as his leader. For Nkemdiche, Clemson is just 100 miles away from Grayson, which would allow him to be near his strong support system. Georgia is also considered a favorite because of the proximity of Athens to Grayson.
Nkemdiche is also interested in Florida, Oregon and USC.
Email dave.miller@nationalfootballpost.com or follow me on Twitter at Miller_Dave