March 19, 2013 -
Dave Miller
Top Class of 2014 RB Michel down to five schools
Sony Michel, arguably the best running back in the Class of 2014, is reportedly ready to commit to one of five major programs in mid-April.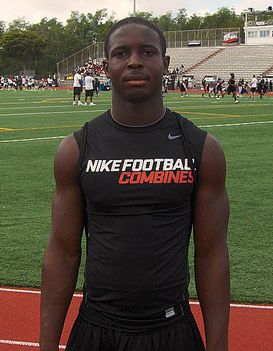 Sony Michel will reportedly make his college destination known very soon.
According to Kipp Adams of ESPN.com, Michel has narrowed his list of prospective schools to Florida, Florida State, Georgia, Miami (FL) and Notre Dame, in no particular order.
The American Heritage High School (Plantation, FL) product wants to make his decision early so he can focus on winning the first state championship for his high school.
The 5-11, 205-pounder has very good vision, patience and speed along with deceptive power and good inside toughness. In his career, he has rushed for 4,819 rushing yards and 57 touchdowns.
Because he lives less than an hour from the Miami campus, many Hurricane fans are hopeful that Michel stays close to home and plays for head coach Al Golden. Michel maintains, however, that he is not feeling any pressure to choose The U.
"I have a school in mind that I plan to commit to, and that is because of the school itself and the offense they run," Michel said. "When I commit, I do not plan to make any additional visits and my decision will be final."
It will be interesting to see if new Florida State running backs coach Jay Graham, who came over from Tennessee, can work his magic and get Michel to commit to the Seminoles.