February 02, 2015 -
Dave Miller
Top Class of 2015 uncommitted prospects
As we get closer to National Signing Day, which is becoming one of the more anticipated days on the college football calendar, there are still several top high school seniors that have not yet chosen a school to attend in the fall.
Let's take a look at the best prospects in the Class of 2015 that have yet to make a decision.
DE Byron Cowart: Armwood High School; Seffner, FL
The 6-4, 258-pounder recently eliminated Florida State and is now down to Auburn and Florida. The Under Armour All-America Game MVP has an ideal blend of size, quickness and speed. The Gators were considered the favorite when they still employed Will Muschamp, but the former UF head coach is now the new Auburn defensive coordinator. The Tigers may have the edge.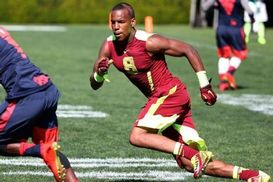 Will Iman Marshall be part of a stellar 2015 class for USC?
CB Iman Marshall: Long Beach Poly High School; Long Beach, CA
The 6-1, 195-pounder has kept his options open. He is the top corner in the country, boasting a unique physical style of play. He has safety-type size with cornerback-type athleticism, reminiscent of former Alabama star Dee Milliner, and he can also make plays on special teams and offense. USC has been considered a favorite, but Jim Harbaugh and his staff are working hard at getting him to commit to Michigan. Other finalists include UCLA, LSU, Florida State and Notre Dame.
DE CeCe Jefferson: Baker County High School; Glen Saint Mary, FL
The 6-3, 248-pounder possesses very good pass-rushing and coverage skills. Auburn, Florida and Ole Miss are considered the leaders for his services. There has also been chatter about himself, Cowart and uncommitted linebacker Jeffery Holland going to the same school, which would be the coup of all coups. Keep an eye on Auburn, which is also going after Terry Godwin (Georgia pledge) and Torrance Gibson (Ohio State pledge). And don't discount Alabama in the Jefferson sweepstakes either.
DT Terry Beckner Jr.: East St. Louis High School; East Saint Louis, IL
The future of the 6-4, 298-pounder is truly unknown. Many recruiting analysts believe that Missouri and Florida State are both close to landing his services. The very athletic defender recently visited Auburn, though, so keep an eye on the Tigers as well as Ohio State. My guess is that he lands with "DLINE-ZOU," as he has visited there a lot, has a teammate heading there and can be the next great pass rusher in Columbia.
DT Daylon Mack: Gladewater High School; Gladewater, TX
The 6-1, 330-pounder may be leaning toward Texas, which could be huge for the Longhorns after being disappointed by the news that star dual-threat quarterback Kyler Murray remains committed to Texas A&M. However, the Aggies and TCU remain squarely in the mix. The Under Armour All-American is light on his feet and has good agility. A&M head coach Kevin Sumlin would love to add him to the mix, as the Aggies need to continue to upgrade their defense.
LB Porter Gustin: Salem Hills High School; Salem, UT
The 6-4, 238-pound athlete may be leaning toward USC, but do not dismiss Ohio State or UCLA. And Utah remains a darkhorse. Gustin actually played quarterback as well as defense, so his athleticism is his best asset. He returned an interception for a touchdown and had a sack in this year's U.S. Army All-American Bowl.
LB John Houston Jr.: Junipero Serra High School; Gardena, CA
The 6-3, 207-pounder is likely headed to USC along with high school teammate Rasheem Green (see below). Do not dismiss Oregon, but the Trojans will likely land him. Houston is a tackling machine that plays well in pass coverage, too.
DE/DT Rasheem Green: Junipero Serra High School; Gardena, CA
As mentioned above, the 6-5, 290-pounder is likely a package deal with Houston. USC is the most likely landing spot, but don't dismiss Arizona State for Green, who can play end or tackle.
OT Martez Ivey: Apopka High School; Apopka, FL
The 6-6, 271-pounder, who has good athleticism but will need to add muscle to his frame, is down to Auburn and Florida. Can the addition of Muschamp be the tipping point for Auburn, or will Ivey stay in-state?
RB Soso Jamabo: Plano West High School; Plano, TX
The 6-2, 206-pound athlete, who is a patient runner, may be down to Texas and UCLA. The Longhorns were once considered a lock, though he still may end up with them because his last visit was to Austin. But Baylor and Notre Dame could be wild cards.
WR DaMarkus Lodge: Cedar Hill High School; Cedar Hill, TX
The 6-2, 185-pounder, who has an MVP award in a state title game under his belt, is likely headed to Texas A&M now that QB Murray is no longer wavering. But Texas and Ole Miss could still get good news here.
OLB Roquan Smith: Macon County High School; Montezuma, GA
The 6-2, 204-pounder is thought by many to be staying in-state and heading to Athens. He is a hard hitter with speed, which is why programs such as Michigan, UCLA and Texas A&M are trying to get him to leave the Peach Tree State.
Dave Miller, the college football editor for the National Football Post, is on Twitter @Miller_Dave.