July 17, 2014 -
Dave Miller
Top coordinators on the head-coaching fast track
College football is a business. And change is inevitable in business as it is in most every aspect of life. So while every athletic director across the country would love to feel 100 percent confident that the right man is in place as the school's head football coach, each one usually has a mental short list of candidates who could fit as the next face of the program in case a head coach leaves for one reason or another. Bob Diaco, who had been a sought-after commodity as a successful assistant at Notre Dame, wound up becoming the head coach at Connecticut this past offseason. Derek Mason, meanwhile, left his post as defensive coordinator at Stanford when Vanderbilt realized that he was ready for a head gig. Today at the NFP let's take a look at some offensive and defensive coordinators who could be ready to assume a larger role within a program and possibly fill the need for an AD who soon will need to zero in on a new program-builder.
Alabama DC Kirby Smart:
Despite being overshadowed by fellow great defensive mind Nick Saban, Smart remains the most sought-after assistant in the nation. He has had a hand in developing a lot of NFL players year in and year out while cultivating new ways to make the 'Bama defense consistently one of the best units in the nation each season. He is very happy in Tuscaloosa, so he is waiting for the right opportunity — and a big opportunity — before leaving the Crimson Tide for a head gig. Georgia is unquestionably the dream job, and I've talked to more than a few people over the last couple of offseasons who maintain that Bulldogs head coach Mark Richt won't be a coaching lifer. Richt, according to one source I spoke to last week, eventually wants to do other things in life, such as mission work. The same source said he would not have been stunned if Richt considered walking away had the 'Dawgs made it to the BCS title game and beat Notre Dame a few years ago. Smart is not in a rush to make a move because he is paid handsomely (a $1.35 million salary) and knows that he will eventually land a top job. But he certainly would love the Georgia gig.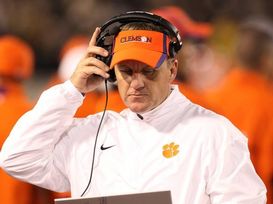 Clemson OC Chad Morris remains desirous of landing a high-level head gig.
Clemson OC Chad Morris:
If Smart is the top defensive assistant on the lists of ADs across the country, then Morris is the hottest offensive assistant because of what he has been able to do at Clemson after arriving from the high school ranks in Texas. In essence, he helped save Dabo Swinney's job a few seasons ago. Morris has been aggressive in pursuing jobs and really wanted the Vanderbilt gig that went to Mason. He wants to compete at a very high level and has a lot of self-confidence, and he believes that he could be successful at an ACC/Big 12/SEC-type job. But, like Smart, he is going to hold out for the right fit.
Michigan State DC Pat Narduzzi:
Outside of Smart, Narduzzi is the most talked-about defensive mind in the game. He has helped build a special program in East Lansing, where pro prospects are being developed on the regular. In addition to being a savvy defensive mind, Narduzzi is also a very good recruiter. He'll be given the opportunity to be a head coach some day, but he has shown he's comfortable and happy in East Lansing. Last year's Frank Broyles Award winner is ready to be the face of a program, and he declined the UConn job that went to Diaco. One thing to keep in mind for any rising assistant, such as Narduzzi, is that coordinators are not as impatient as they may have once been because the pay for top assistants has increased so much (especially in major conferences) the last few years. While each situation is individual-specific, coaches are wary of taking a job and risk going 4-8, taking a lot of the shine off of the armor. Coaches want to guard against getting run off after a few bad seasons, so the situation has to be right.
Auburn OC Rhett Lashlee and Arizona State OC Mike Norvell:
I lumped these two offensive coordinators together because the pair are so close with their head coaches. Lashlee may stay awhile at Auburn because he is taken care of very well there, and there's really no reason to jump off of the Gus Bus — Malzahn is a hot brand name. Norvell, meanwhile, really enjoys working with Todd Graham in Tempe, and the coaches have had a close relationship going back to their days at Tulsa and Pittsburgh. The pair even vacation together. From those I've talked to this offseason, it doesn't appear that Norvell is looking to step out quite yet and settle for a Mountain West-type job. Interest from Arkansas State to be the program's head coach led to him getting a salary bump to $700,000. Certainly, Lashlee and Norvell are rising up the assistant ranks in the eyes of ADs everywhere.
Florida OC Kurt Roper:
He no longer will be in the shadow of longtime boss David Cutcliffe, as the former Duke OC was brought into Gainesville by embattled Gators head coach Will Muschamp to make quarterback Jeff Driskel more comfortable and get the offense rolling. A strong year in a higher-profile gig will propel him upwards after helping Duke record a school-record 54 touchdowns last season.
Georgia DC Jeremy Pruitt:
A Nick Saban disciple, Pruitt is one of the highest-paid defensive coordinators in the country after helping lead Florida State to the final BCS title last year. The former Alabama secondary coach received a $350,000 raise when he arrived in Athens, and his stock will only continue to rise if he makes an instant impact with the Bulldogs' subpar defense.
USC DC Justin Wilcox:
He has helped revamp units at Boise State, Tennessee and Washington, and he'll have an even higher-profile gig this year after he followed Steve Sarkisian to 'SC. He immediately helped the Huskies' woeful defense in his first season, and they ranked fourth in the nation in sacks per game last fall. In L.A., he will work with the best talent of his career.
Other notes
USC OC Clay Helton may get overlooked due to the arrival of Sark from Washington, but the Trojans offensive coordinator and quarterbacks coach is well-respected and finished last season strong in midst of all the turmoil surrounding the 'SC program. A Mountain West-type job could be in the near future. One source who is very plugged into the annual coaching carousel told me that Oklahoma co-OC Josh Heupel is someone who gets "very little national love" on some of these lists composed by media. However, Heupel has been asked to interview for a number of jobs and "he's on the radar in the AD world." A few more names that are hot: East Carolina OC Lincoln Riley, Texas A&M OC Jake Spavital, Oregon OC Scott Frost and Baylor OC Philip Montgomery.
Dave Miller, the college football editor for the National Football Post, is on Twitter @Miller_Dave.