July 01, 2013 -
Dave Miller
Top coordinators set to become head coaches
While every athletic director across the country would love to feel 100 percent confident that the right man is in place as the school's head football coach, college sports is a business. And change is inevitable in business as it is in most every aspect of life.
So even at the most successful football programs, ADs always have at least a mental short list of candidates who could fit as the next face of the program in case a head coach leaves for a better job or has to leave for one reason or another.
Today at the NFP let's take a look at some offensive and defensive coordinators who could be ready to assume a larger role within a program and possibly fill the need for an AD who soon will need to zero in on a new program-builder.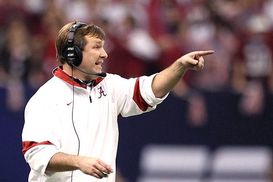 US PRESSWIREKirby Smart will be a head coach sooner rather than later.
Alabama DC Kirby Smart: We all know that Nick Saban is the main reason why the Crimson Tide is gunning for their fourth BCS national championship in five seasons. Not only does he oversee the entire operation in Tuscaloosa, but he is a defensive mastermind. However, that should not lead people to overlook the job that Smart has done with the Tide. He's the highest-paid DC in college football because he has a hand in developing so many NFL players year in and year out while cultivating unique ways to make the 'Bama defense consistently one of the best units in the nation each season. It appears that he is waiting for the right opportunity — and a big opportunity — before leaving the Tide for a head gig. Georgia is probably the dream job, but Mark Richt is not in much danger.
Clemson OC Chad Morris: The leader of the Tigers offense is probably the hottest name for a potential vacancy because of what he has been able to do at Clemson after arriving from the high school ranks in Texas. In essence, he helped save Dabo Swinney's job a few seasons ago. Morris received an interview at Texas Tech, but Kliff Kingsbury just happened to be available. But like Smart, he will wait for the right opportunity as long as his unit remains prolific. And that up-tempo offense that averaged over 40 points per game last season will remain productive behind Heisman Trophy contender Tajh Boyd. The 44-year-old native Texan and former Tulsa OC could be headed back to the Lone Star State at some point.
Notre Dame DC Bob Diaco: When Brian Kelly and Diaco began turning around the Fighting Irish defense, it appeared that Diaco would be able to land a job in the MAC or another non-BCS league in time. But the influence that Diaco has had in South Bend likely makes him a prime candidate to get a lower-tier job in an AQ league these days. The Irish had one of the best defenses in the nation last year and could possibly be even a bit better in 2013 after finishing seventh nationally in total defense and second in points allowed in 2012. Diaco has held numerous assistant jobs and is due for a head gig. The New Jersey native would fit in very well on the East Coast.
Arizona State OC Mike Norvell: The Sun Devils offense thrived in its first season under Norvell, who came to Tempe with Todd Graham after working under him at Tulsa and Pittsburgh. While he is young, Norvell is on the fast track to getting a head gig. And after the Sun Devils averaged 38.4 points per game last season, they should once again be one of the Pac-12's most exciting offenses with Taylor Kelly returning at quarterback. Another strong year and Norvell could be in consideration for a job in a league such as the Mountain West.
Washington DC Justin Wilcox: After demonstrating his defensive acumen at Boise State and Tennessee, Wilcox transformed the Huskies' unit into one of the better ones in the Pac-12 last fall. The native Oregonian is just 36 years old but is ready to become the face of a program. If Washington has a breakthrough season in the Pac-12 this fall, his stock will soar.
Michigan State DC Pat Narduzzi: While Kirby Smart gets a lot of love as a DC, Narduzzi still seems to go a bit under the radar. The defensive leader of the Spartans has really built something special in East Lansing, and it's a shame that MSU's offense has not been able to complement what have been stellar defenses in recent years. In addition to being a savvy defensive mind, Narduzzi is also a very good recruiter. He'll be given the opportunity to be a head coach some day, but he has shown he's comfortable in East Lansing because he has turned down a couple of higher-profile coordinator jobs in the past. He could be the head coach of the next Big Ten program in need of a new leader.
Others on the radar: Stanford DC Derek Mason, Nevada OC Nick Rolovich and Ohio State OC Tom Herman
Note: There is a job waiting for San Francisco 49ers assistant Greg Roman should he decide to return to the college game. The New Jersey native is very well-respected nationally, not just on the West Coast.