February 09, 2012 -
Dave Miller
Top offensive recruiting classes by position
As we continue to wrap up National Signing Day coverage, let's take a look at the programs that brought in the most impressive haul of offensive talent on a position-by-position basis.
CLICK HERE for the top defensive recruiting classes by position
Quarterback: Washington
Top recruits: Cyler Miles and Jeff Lindquist
Florida State secured a commitment from Jameis Winston, but he could end up on the baseball diamond. Notre Dame has Gunner Kiel, the top dropback passer in the country. And Purdue signed three quarterbacks that add serious intrigue to the 2013 competition for the starting job. But it was Steve Sarkisian and Washington that landed the best crop of signal-callers, getting the signatures of Cyler Miles and Jeff Lindquist. Miles remained with the Huskies instead of flipping to USC after earning co-MVP honors at the U.S. Army All-American Bowl, where he completed 7 of 8 passes for 155 yards and a touchdown. The 6-3, 225-pound Lindquist, meanwhile, had a strong showing at the Semper Fidelis Bowl, throwing two touchdowns in leading the West to a 17-14 win. Two good passers with mobility who will fit into Sarkisian's offense in Seattle when Keith Price moves on.
Running Back: Virginia Tech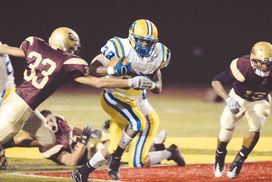 Drew Harris opened his senior season strong before suffering a season-ending injury.
Top recruits: J.C. Coleman, Drew Harris and Chris Mangus
Georgia's pickups of Keith Marshall and Todd Gurley add to a roster that features Class of 2011 gem Isaiah Crowell, and Alabama struck gold with T.J. Yeldon and Kenyan Drake. But I'm going to go with Virginia Tech in the top slot because of the variety of backs in this class. J.C. Coleman is a 5-7, 169-pounder who can make defenders miss -- mostly because they can't find him behind his offensive linemen. He compiled 66 touchdowns in high school and is very good out of the backfield as a pass-catcher. He graduated early and is currently an early enrollee in Blacksburg. The Hokies have a history with shorter backs like Mike Imoh and Shyrone Stith, so Va. Tech fans will certainly welcome Coleman. Meanwhile, Drew Harris is a bigger back and much stronger at 6-1 and 210 pounds. He ran for 617 yards and nine touchdowns through four games last season before suffering a knee injury that cut his high school career short. The between-the-tackles runner can thrive in Virginia Tech's system early if he's recovered from his knee injury.
Wide Receiver: Oklahoma
Top recruits: Trey Metoyer, Durron Neal, Sterling Shepard, Derrick Woods and Courtney Gardner
Tennessee did very well to bring in Drae Bowles and Cordarrelle Patterson, but Oklahoma gave quarterback Landry Jones and future OU signal-callers an abundance of talent to work with at the receiver position. Trey Metoyer is the best of the bunch, and Durron Neal displayed his talents at the U.S. Army All-American Bowl. Sterling Shepard was arguably the best player in the state of Oklahoma, and he was a teammate of Barry J. Sanders. That tells you just how much talent he possesses.
Tight End: Florida
Top recruits: Kent Taylor and Colin Thompson
Oklahoma signed four tight ends in this year's class, so the Sooners don't have to worry about the position for a long time. Chip Kelly, meanwhile, didn't stop at Colt Lyerla (Class of 2011), bringing in two impressive targets who could see the field as freshmen. But Will Muschamp and the Gators came out with the most impressive haul. Kent Taylor was impressive at the U.S. Army All-American Bowl, where he was one of the East's leading receivers with three catches for 25 yards in his team's 24-12 loss. He has good size and hands, while Colin Thompson is the better blocker of the two and also an accomplished pass-catcher.
Offensive Line: Stanford
Top recruits: Kyle Murphy, Andrus Peat, Joshua Garnett, Graham Shuler, Brandon Fanaika, Johnny Caspers and Nick Davidson.
Without question the Cardinal rank No. 1 for its offensive line haul as David Shaw delivered, in his words, "one of the best offensive line classes in modern football history." It sounds hyperbolic, but tackles Andrus Peat and Kyle Murphy as well as guards Joshua Garnett and Graham Shuler are four of the best players at their positions. Even getting guard Brandon Fanaika was a coup, as he considered flipping to Utah before heading to The Farm. It's safe to say that Shaw passed the test with flying colors in his first full recruiting cycle.
Email dave.miller@nationalfootballpost.com or follow me on Twitter at Miller_Dave