February 21, 2011 -
Dave Miller
Top RBs in the Class of 2012
The National Football Post continues to look ahead to the Class of 2012. Today, our first glance at the running backs.
As with the quarterbacks, this list is a very preliminary one, as prospects will rise and fall based off of their performances in summer camps and, of course, their play during their senior seasons.
But, for now, let's take a look at the most intriguing players at the running back position.
As the days and weeks unfold, and as I continue to watch more clips and further research these recruits, I will continue to unveil the top prospects at each position both on offense and defense.
RB's
Johnathan Gray was the Texas Gatorade Player of the Year in 2010.
1. Johnathan Gray: 5-10, 190-pounder from Aledo, TX
Status: Undeclared
Considering: Texas, Oklahoma, Texas A&M, TCU and Texas Tech
Also recruited by: Baylor
2010: Rushed for 3,183 yards and 59 touchdowns. Named a first-team Class 4A all-state selection. Was the Texas Gatorade Player of the Year.
2009: Carried 350 times for 2,670 yards (7.6 average) and 45 touchdowns. Caught 29 passes for 457 yards (15.8 average) and eight more scores in helping lead Aledo to a state title.
Gray has rushed for 6,021 yards and 109 touchdowns in the last two seasons at Aledo High School — staggering numbers for the rising senior. The son of James Gray, who played at Texas Tech and in the NFL, Gray recently participated in junior days at Texas A&M, Texas and TCU and has already received a scholarship offer from the Longhorns. While rumors persist that he has already committed to head coach Mack Brown, the state's top junior insists that he is far from making a decision. While NCAA rules prevent coaches from calling recruits on the phone until July 1, Gray still receives around 40 letters a week. And the number may increase. The 5-10, 190-pounder, who had minor surgery on his right shoulder because of a labrum injury he suffered during his sophomore season, set a Texas high school state championship game record with eight rushing touchdowns and broke the record for most rushing scores in a season — a mark that stood since 1953. Whether he is running around or through defenses, Gray — who already accepted an invite to next year's U.S. Army All-American Bowl — is the top back to watch in 2011.
2. Rushel Shell: 5-11, 215-pounder from Aliquippa, PA
Status: Undeclared
Considering: Pittsburgh, Penn State, Ohio State, Tennessee and Florida
Also recruited by: West Virginia, Alabama, Virginia, North Carolina, Cincinnati and UCLA
2010: Carried 324 times for 2,475 yards (7.6 average) and 27 touchdowns. Added 12 catches for 198 yards and three more scores. Was a Class AAA all-state selection and the area player of the year.
2009: Rushed 250 times for 2,465 yards (9.9 average) and 31 touchdowns.
Shell, who also plays basketball at Hopewell High School in the Pittsburgh area, is an elite back who is a big fan of Ohio State quarterback Terrelle Pryor. The two are friends, which leads many to speculate that the Buckeyes could be frontrunners despite the fact that Pryor won't be on campus if and when Shell arrives. In addition, Jim Tressel and Co. already have commitments from Bri'onte Dunn and Warren Ball — two of the best running backs in the country.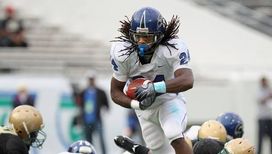 Matt Jones rushed for 1,300 yards and 23 touchdowns on 176 carries last season.
3. Matt Jones: 6-3, 220-pounder from Seffner, FL
Status: Florida
Also Considered: Georgia, Alabama, Auburn, Tennessee and USC
Also recruited by: Notre Dame, Arkansas, Georgia Tech, Michigan, Nebraska, Wisconsin, Wake Forest, North Carolina, Clemson and South Carolina
2010: Rushed for 1,447 yards and 25 touchdowns. Was a second-team all-area selection.
2009: Carried 88 times for 682 yards (7.8 average) and eight touchdowns. Added nine catches for 134 yards and one more score.
2008: Rushed for 124 yards and one touchdown.
Jones, who committed to Florida this month while holding approximately 30 scholarship offers, should be a perfect fit as a bigger back in Charlie Weis' pro-style offense. The downhill runner helped lead Armwood High School to the class 4A state title game last season and is determined to have a stellar 2011 season with his college choice already made. The coaching staff at Florida told Jones that he will be one of just two running backs in the Class of 2012, so he is being counted on to produce in Gainesville. He insisted that he is "a Gator for life" and that his decision will not change from now until Feb. 1, 2012 — the first day he can officially sign a national letter of intent with the Gators. Despite gaining 147 yards in last season's state title game, Jones managed just 7 yards on four carries in the final 21 minutes in his team's 17-14 loss. He cited dehydration for his ineffectiveness late, but the bruising, every-down back certainly would like to finish his high school career on a higher note next season.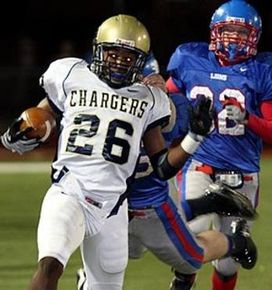 Barry Sanders, Jr. visited Alabama this past weekend.
4. Barry Sanders, Jr.: 5-10, 190-pounder from Oklahoma City, OK
Status: Undeclared
Considering: Oklahoma State, Alabama, Florida State, UCLA and Notre Dame
Also recruited by: Texas A&M, Tennessee, Auburn, Texas Tech, Ole Miss, Arizona and Tulsa
2010: Rushed 81 times for 1,136 yards (14.0 average) and 16 touchdowns. He also caught a touchdown pass. However, he played in only six games on the season due to a foot injury.
2009: Rushed for 1,700 yards and 22 touchdowns. Caught five touchdown passes, as well. Received all-state recognition.
2008: Rushed for 742 yards and 12 scores.
Yes, there is another Barry Sanders. Scary thought, right? The son of the Hall of Fame NFL running back has been a YouTube favorite ever since stepping onto the field for Heritage Hall High School. But Sanders Jr., who has already been chosen to play in the U.S. Army All-American Bowl game in San Antonio next year, is a bit of a different back than his dad, as he's a little bigger, more of an upright runner and possibly — just possibly — a little faster in the open field. He has very good acceleration and quick change of direction, and he also has the ability to catch the ball out of the backfield. Will he choose to stay home and play for Oklahoma State like his father, or will he choose his own path at another school?