August 29, 2014 -
Dave Miller
Tough road ahead for Gamecocks
Steve Spurrier has a lot of work to do in the next week-plus before his South Carolina squad takes the field again following its thorough beating at the hands of Texas A&M in the season opener on Thursday night.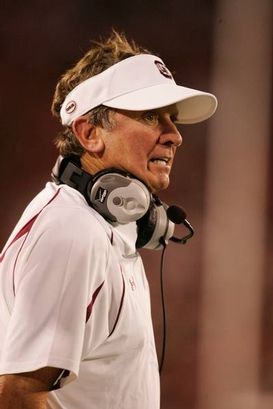 ICONHow will Steve Spurrier's squad rebound from a rough opener?
The Gamecocks gave up 52 points to Kevin Sumlin's Aggies, allowing first-year starting quarterback Kenny Hill to go 44 of 60 through the air for a school-record 511 yards and three touchdowns. Yes, he demolished Johnny Manziel's single-game passing mark behind a dominant offensive line and an abundance of playmakers such as wide receiver Ricky Seals-Jones surrounding him. Twelve different Aggies caught a pass in the contest, led by Malcome Kennedy's 14.
Yes, it was one game. But the Gamecocks essentially created a Heisman Trophy contender in one night.
Defensive coordinator Lorenzo Ward mentioned this past spring that the Gamecocks had a chance to be as good or better defensively than last year, which sounded crazy at the time and seems even more ludicrous now. Besides Jadeveon Clowney, the unit sorely missed several key starters from last year's team, as A&M's 52 points were the fourth-most ever scored against a Spurrier-coached team. It was shades of the 1996 Fiesta Bowl, when Nebraska hung 62 on Head Ball Coach's Florida team.
So what's next for the Gamecocks?
Well, a tricky path looms, as they'll face Shane Carden, Justin Hardy and East Carolina next week before having to match up with SEC East rival Georgia the following Saturday. The Pirates scored 52 points at least five times last season and have a Carden-Hardy connection that is one of the most potent QB-WR combinations in the country. Carden completed over 70 percent of his throws last year, while Hardy had nearly 1,300 receiving yards. Meanwhile, the Bulldogs have a loaded offense that is expected to put pressure on the best of SEC defenses this fall. While both games will be at home, the Gamecocks' thrashing on Thursday night was at Williams-Brice as well.
What tweaks and changes, if any, will we see from Ward over the next week?
Besides the Aggies' offensive tempo clearly wearing down the Gamecocks' defense, the team's young cornerbacks were exposed throughout the night. And the pass rush was often nonexistent, providing Hill with a consistently clean pocket to pick on the young secondary. That recipe is not going to win many games in the SEC.
Offensively, preseason Heisman Trophy contender Mike Davis and Brandon Wilds combined for just 15 carries, and the Gamecocks finished with just 67 yards on the ground. The team gave up on the run, which was a mistake despite the deficit. Quarterback Dylan Thompson, who completed just 50 percent of his throws, is much less effective without a strong rushing attack that would keep defenses honest and let him take shots down the field sporadically.
There's no question that the Gamecocks' backs are against the wall. How will they respond heading into a tricky two-game run starting next week?
Dave Miller, the college football editor for the National Football Post, is on Twitter @Miller_Dave.