October 07, 2010 -
Dave Miller
Trending: Taylor Martinez
If you were unable to watch the Nebraska-Kansas State game tonight on ESPN, perhaps you followed the game via Twitter.
If you did take to the 'net, no matter who you may have "followed" for game updates, you may have noticed that a certain Nebraska quarterback was and still is "Trending."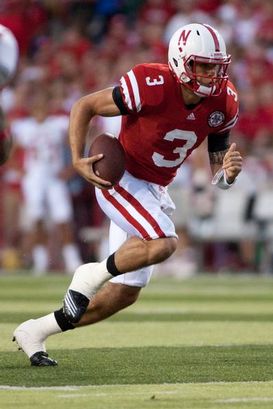 ICONTaylor Martinez is blowing up on Twitter after his performance against K-State.
Yes, Cornhusker fans, your stud dual-threat signal caller is trending third worldwide as of 10:58 p.m. EST — right behind Mario Vargas Llosa and Grey's Anatomy.
Why? Well, in one half of action against the Wildcats, "T-Magic" rushed for 129 yards and two touchdowns on 11 carries to help give Nebraska a 17-3 lead at the break.
In the second half?
How about 112 more yards and two more scores on just four carries. Yes, Martinez rushed 15 times for 241 yards and four scores on the evening in the rout.
And he just happened to throw for 128 yards on 5-of-7 passing, including a 79-yard touchdown pass to Kyler Reed.
Because we live in a world dominated by social media, I guess it's safe to assume that the Taylor Martinez era has truly arrived in Lincoln because Twitter Nation has spoken — er, tweeted.
Oh, by the way, you can follow me on Twitter at Miller_Dave...
...or send your college football questions to dave.miller@nationalfootballpost.com</p>
Want to work in the NFL? Click here to register for the NFP's "Chalk Talk" seminar in Chicago on October 22nd.