March 14, 2011 -
Dave Miller
Tressel: 'I sincerely apologize for what we've been through'
Ohio State head coach Jim Tressel issued an apology to Buckeye fans on Monday for failing to notify school officials of information he received last April involving players and the sale of memorabilia.
Speaking at a luncheon sponsored by the Pro Football Hall of Fame in Canton, Ohio, the beleaguered Buckeye spoke to a crowd of about 400 fans — his first public speaking engagement since being suspended the first two games of the 2011 season and fined $250,000 for violating NCAA rules.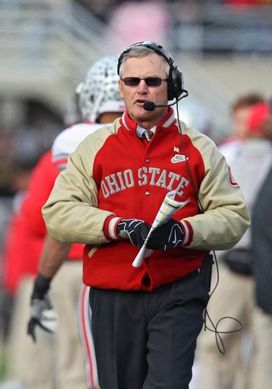 ICONJim Tressel apologized to Ohio State fans on Monday for violating NCAA rules.
Tressel did net a standing ovation — though not as rousing as in years past — when he entered the dining hall at Tozzi's on 12th restaurant. He started his address to fans by saying he couldn't say much about the recent troubles at the school.
"I can't talk a whole bunch about what recently has gone on because of the nature of the situation," Tressel said. "I can tell you this, I consider all of you a part of Buckeye nation...What I would like to say to this part of Buckeye nation is I sincerely apologize for what we've been through this recent time. I apologize I wasn't able to find the one to partner with, and perhaps handle our difficult and complex situation we have."
Five Ohio State players, including quarterback Terrelle Pryor and wide receiver DeVier Posey, were suspended the first five games of the 2011 season for violating NCAA rules by selling Ohio State memorabilia.
Tressel also apologized for additional penalties he and the school may face from the NCAA's infractions committee and for being a distraction to the school's top-ranked basketball team, which enters this week's Big Dance as the tournament's top seed.
Email dave.miller@nationalfootballpost.com or follow me on Twitter at Miller_Dave