April 17, 2013 -
Dave Miller
Trickett plans to transfer from FSU
In a very surprising move, Clint Trickett is transferring from Florida State.
As first reported on Twitter by Ira Schoffel of the Tallahassee Democrat, the quarterback's next destination is undetermined.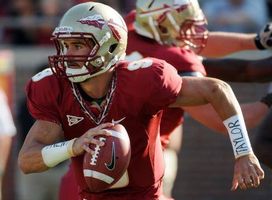 US PRESSWIREClint Trickett is leaving FSU.
Despite the fantastic play of redshirt freshman Jameis Winston in the recent Gold and Garnet game, the news of Trickett's impending transfer is quite stunning, as he was the backup signal-caller to EJ Manuel the last two seasons and showed promise when he started two games in 2011. In his first collegiate start at Clemson, he had a 24-of-38 passing performance for 336 yards and three touchdowns against one interception.
No more details are known about Trickett's decision to leave FSU, but perhaps the fourth-year junior sees the writing on the wall after Winston went 12-of-15 passing for 205 yards and two touchdowns against the first-team defense this past weekend in the team's spring game. Trickett also played very well in the spring showcase, as he completed 22-of-32 passes for 259 yards and a score with one pick.
While I felt that the FSU coaching staff may still feel more comfortable with Trickett's experience edge and his poise, Winston's leadership skills are off the charts for such a young player. It appears now that the Winston era has begun.
With Trickett scheduled to graduate in May, he could end up competing for a starting job on another campus this fall.
UPDATE: FSU head coach Jimbo Fisher released the following statement on Wednesday:
"After a long meeting with Clint, he expressed he'd like to explore another playing opportunity, and I've signed off on his wish. Clint has not only been a great player for our program, but a great young man and ambassador for Florida State who will graduate in a few weeks. He's been a part of this program for a long time and we wish nothing but the best for him in his future endeavors."