December 19, 2012 -
Dave Miller
Trouble brewing for Kelly and Oregon?
Remember the NCAA investigation into Oregon's dealings with prep adviser Willie Lyles?
According to Charles Robinson and Rand Getlin of Yahoo! Sports, the school's attempt to resolve the governing body's query through summary disposition has failed, which means the Ducks now face a likely appearance before the Committee on Infractions sometime in the spring in Indianapolis, which the school wanted to avoid.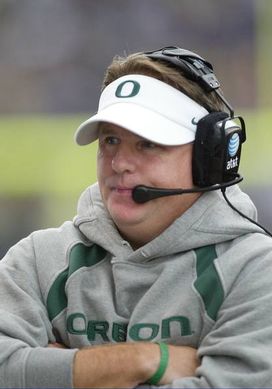 US PRESSWIREAre Chip Kelly and the Ducks facing potential NCAA sanctions?
Of course, Yahoo! Sports originally reported that Oregon paid Lyles $25,000 for alleged scouting services in March 2011. Four months later, Lyles told Yahoo! Sports that the money helped influence and deliver recruits to the Ducks program.
After an NCAA investigation commenced, Oregon sought a summary disposition, suggesting to the COI the violations the school believed had occurred as well as potential sanctions. However, according to the report, the committee disagreed with various parts of the infractions that the school believed took place as well as what the Ducks thought was appropriate punishment. Thus, a hearing will take place, and head coach Chip Kelly may have to take part in it. That is, if he is still in Eugene.
Of course, several reports throughout the fall have linked Kelly to a variety of NFL openings, citing possible NCAA violations as one reason why he may bolt to the NFL. Kelly, as you may remember, nearly took the Tampa Bay Buccaneers job that ultimately went to Greg Schiano this past offseason.
It is unknown whether Kelly has been thoroughly interviewed by NCAA investigators up until this point, though one would think that he has because this investigation has dragged on so long. If the head coach did leave after this season, it would be in Oregon's favor if he did get a chance to talk as to give an explanation for the payment to Lyles. A reasonable explanation could help limit the severity of possible sanctions for the program. Keep in mind that Kelly composed handwritten "thank you" notes to Lyles, and Lyles has already talked to the NCAA about his relationship with the Ducks staff.
Email dave.miller@nationalfootballpost.com or follow me on Twitter at Miller_Dave