November 14, 2012 -
Dave Miller
Tuberville makes a lot of sense at Arkansas
Tommy Tuberville has been in the news this week for all of the wrong reasons after a sideline altercation with graduate assistant Kevin Oliver, whose headset was yanked off by Tuberville during Texas Tech's win over Kansas on Saturday. The Big 12 on Monday afternoon issued a public reprimand of the Red Raiders head coach, and league commissioner Bob Bowlsby called the act "unsportstmanlike."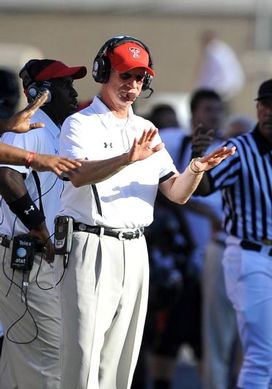 US PRESSWIRETommy Tuberville could get a long, hard look from Arkansas for its head-coaching vacancy.
While addressing the incident during his weekly news conference Monday, Tuberville acknowledged that he overreacted and said that he apologized to Oliver for his outburst.
Despite the incident, Tuberville's name will continue to be linked to the impending opening at Arkansas along with TCU's Gary Patterson, Oklahoma State's Mike Gundy, Nebraska's Bo Pelini and former Tennessee head coach Phillip Fulmer. While all of those names would be intriguing candidates, Tuberville could be one of the safer and most realistic choices for Razorbacks athletic director Jeff Long.
The Hogs are looking for stability after dealing with the Bobby Petrino saga as well as a poor performance this fall under stopgap head coach John L. Smith, and Tuberville proved during his tenures at Ole Miss and Auburn that he can run a tight ship. Once on a bit of a hot seat in Lubbock because of the great success of his predecessor, Mike Leach, Tuberville's strong start in 2012 made him a hot commodity again.
Tuberville would fit in nicely in Fayetteville after his SEC West experiences with the Rebels and Tigers from 1995 to 2008, and he has a staff under him right now that could be successful in the nation's toughest conference. Offensive coordinator Neal Brown will unquestionably be up for lower-tier head openings this offseason, but he could also take his time and build on his rising status to possibly get a bigger job down the road. Meanwhile, Tuberville finally found a defensive coordinator in Art Kaufman that has been able to work wonders with a once-porous Tech defense.
For all of those reasons, expect Long to take a serious look at Tuberville for the impending opening in Fayetteville. That is, of course, unless Long was turned off by Tuberville's actions on the sideline this past weekend.
Email dave.miller@nationalfootballpost.com or follow me on Twitter at Miller_Dave