January 05, 2013 -
Dave Miller
Under Armour All-America Game recap
Before we turn our attention to the U.S. Army All-American Bowl on Saturday at the Alamodome in San Antonio, let's take a look at some of the highlights from the Under Armour All-America Game that took place on Friday in St. Petersburg.
- The game wasn't exactly a beauty contest, as the teams combined for 667 yards in punts, while the total offensive yards registered at just 227.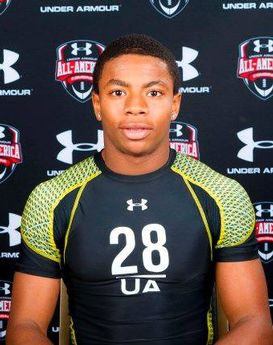 Vernon Hargreaves III recorded an interception, a pass breakup and team-high five tackles on Friday.
- Florida cornerback commit Vernon Hargreaves III was named the MVP of Team Highlight after recording an interception, a pass breakup and team-high five tackles, while linebacker Reuben Foster was the MVP for Team Nitro after leading his team with six tackles. Foster was once committed to Auburn, but he is now looking at Georgia, Alabama and Washington.
- Wide receiver Robert Foster, who committed to Alabama instead of staying in-state and giving his verbal to Pitt, caught four passes for 55 yards to lead Team Highlight. Meanwhile, LaQuon Treadwell had six catches for 46 yards for Team Nitro. Treadwell is considering Ole Miss, Oklahoma and Oklahoma State.
- UCLA commit Sean Covington kicked three field goals to help Team Highlight beat Team Nitro 16-3. He recored field goals of 31, 30 and 25 yards and also averaged 40.8 yards on eight punts.
- Highlight quarterback and Alabama commit Cooper Bateman tossed a 6-yard touchdown pass to tight end Josh McNeil, who was once a 'Bama commit but is now favoring LSU.
- Team Nitro kicker Ryan Santoso, who kicked a 44-yard field goal, missed two other field goals. The 270-pounder is committed to Minnesota.
- Five players made commitments during the game: Linebacker Kendell Beckwith stayed in-state and committed to LSU over Alabama; defensive end Ebenezer Ogundeko committed to Clemson over Florida and Syracuse; linebacker Trey Johnson chose Ohio State over Auburn; defensive back Max Redfield committed to Notre Dame over USC and Ohio State; and safety Leon McQuay III committed to USC over Vanderbilt and Florida State.
- Miami (FL) quarterback commit Kevin Olsen finished 5-of-15 passing for 22 yards and was sacked twice.