January 05, 2013 -
Dave Miller
U.S. Army All-American Bowl preview
The U.S. Army All-American Bowl will take place Saturday at the Alamodome in San Antonio at 1 p.m. ET on NBC.
The showcase game featuring some of the best high school players in the Class of 2013 gives college football fans a chance to see the stars of tomorrow going up against one another in what is supposed to be a relatively competitive environment, although the contest is usually a little bit sloppy because of limited practices leading up to the game. It also gives the players a chance to showcase their talents in front of a national television audience.
In addition, we will see some announcements of college decisions being made throughout the game.
Here's a guide on what to watch on Saturday when you settle in to view the game.
Top prospects to watch
OT Laremy Tunsil: Columbia High School; Lake City, FL
The 6-6, 295-pounder has great athleticism for an offensive tackle with the body type to add weight without losing effectiveness. Georgia and Alabama are at the top of his list, and some recruiting experts feel that the Bulldogs have the edge. Florida State also remains in the mix as well, and Tunsil will visit his three finalists during the next month. He will have a chance to go against some elite defensive linemen in this contest both at guard and tackle.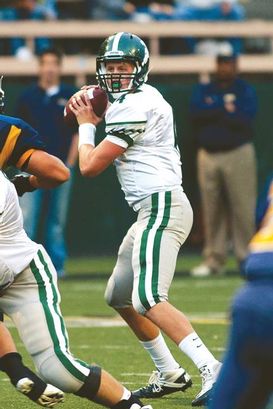 Max Browne is committed to play at USC.
QB Max Browne: Skyline High School; Sammamish, Wash.
The 6-5, 214-pound quarterback, who is the nation's No. 1 pocket passer, is the top-rated offensive player in the country. The pro-style signal-caller has reportedly fared well this week at U.S. Army practices. He is currently committed to USC.
RB Derrick Green: Hermitage High School; Richmond, VA
The 6-foot, 215-pounder is a bruiser who has very good speed and explosiveness. His top six reportedly consists of Michigan, Auburn, Tennessee, Oregon, Ole Miss and Miami (FL). There has been a lot of recent buzz about the Wolverines landing his services. He's a big, physical back who has the ability to make big plays.
CB Kendall Fuller: Our Lady of Good Counsel High School; Olney, MD
One of the top cornerbacks in the country, Fuller has given his verbal pledge to Virginia Tech. The 5-11, 190-pounder, who was also pursued by major programs such as Alabama, Michigan, and Tennessee, is a former teammate of Maryland star freshman Stefon Diggs. But Frank Beamer is used to having a Fuller in the program, as he has landed commitments in the past from Kendall's three older brothers, including cornerback Kyle Fuller and wide receiver Corey Fuller. Fuller is the program's most heralded recruit since running back Kevin Jones roughly a decade ago. He is a part of a strong class of defensive backs, and he has reportedly held his own all week against some of the best receivers.
WR Ricky Seals-Jones: Sealy High School; Sealy, TX
The 6-5, 220-pounder has played a variety of positions in high school, including quarterback and safety. He could be an effective tight end but will most likely end up being a big receiver and a clutch red-zone option at the next level. He is recovered from a severe knee injury he suffered early in September, and his athleticism will be something to watch in this one. He is committed to Texas A&M after decommitting from Texas.
LB Jaylon Smith: Bishop Luers High School; Fort Wayne, Ind.
The 6-3, 212-pound outside linebacker, who is committed to Notre Dame, is a speedy tackling machine who could get an early look in Bob Diaco's 3-4 scheme if he picks up the defense quickly.
S Su'a Cravens: Vista Murrieta High School; Murrieta, Calif.
One of the best defensive backs in the nation, the 6-1, 205-pound Cravens is committed to USC. He has the size and speed to actually be a productive running back at the next level, but he best projects as a Rover.
Also keep an eye on: DB Jalen Ramsey, who is committed to USC, and LB Mike Mitchell, whose finalists are Florida State, Ohio State, Oklahoma, Oregon and Texas A&M.
Players who will announce their verbal commitments during the game
WR Tyler Boyd, Clairton (Pa.): He will choose between Pitt, West Virginia and Michigan State. The Panthers would love to add him after losing in-state star Robert Foster to Alabama.
OL Reeve Koehler, St. Louis (Honolulu, Hawaii): Tennessee, Kansas, Arkansas and Cal are in the mix for Koehler. He was once considered to be a favorite for Tennessee, but I think he will choose to attend Arkansas and play for new head coach Bret Bielema.
DE Joe Mathis, Upland (Calif.): Washington, Alabama, USC and UCLA are all in the running. But star recruiter Tosh Lupoi may be able to give the Huskies the edge.
LB Mike Mitchell, Prestonwood (Plano, Texas): Ohio State, Texas A&M and Oregon are in the running. Keep an eye on the Buckeyes, as Urban Meyer would love to add a strong piece to his future defensive units.
DE Al-Quadin Muhammad, Don Bosco Prep (Ramsey, N.J.): Muhammad has been linked to Notre Dame, but Miami could be the destination after he had a strong visit to Coral Gables.
WR James Quick, Trinity (Louisville): Louisville seems to have the momentum after its Sugar Bowl thrashing of Florida. And Charlie Strong landed two U.S. Army All American players last year. But keep an eye on Ohio State.
WR Demarcus Robinson, Peach County (Fort Valley, Ga.): Robinson committed to Clemson, flipped to Florida and then flipped back to Clemson. However, he recently said he is not committed to any program. Where exactly he will land is unknown.
WR Tony Stevens, Evans (Orlando, Fla.): Texas A&M, Florida State and Ohio State remain in the mix for Stevens, but he may lean toward the Aggies and play in Kevin Sumlin's offense.