September 29, 2013 -
Dave Miller
USC fires Kiffin
Lane Kiffin is out at USC.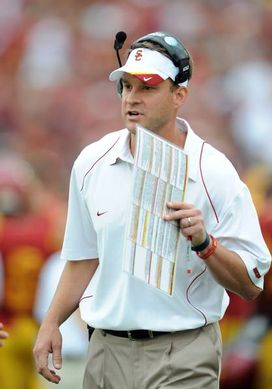 US PRESSWIRELane Kiffin went 28-15 at USC.
The Trojans fired their head coach after the team fell to 3-2 with a 62-41 blowout loss at Arizona State on Saturday night. Athletic director Pat Haden relieved Kiffin of his duties after the team arrived back in Los Angeles early Sunday morning after the loss in Tempe. Haden will hold a news conference on Sunday afternoon.
'SC has lost seven of its last 11 games going back to last year, and the team is 0-2 in the Pac-12 this season. The team entered last year as the preseason No. 1 team but finished the campaign unranked.
In four years at USC, Kiffin went 28-15.
The Trojans rank last in the Pac-12 in points per game and passing yards per game, and a lot of the blame for their woes could be directed at Kiffin's cautious and vanilla play-calling.
The timing of the firing is certainly a bit curious, although Kiffin was clearly on thin ice, and the situation in L.A. was becoming more uncomfortable. Plus, the Trojans do have a bye before a Thursday night home game against Arizona, so the new head coach will have extra time to get the team ready.
Kiffin's coaching career has certainly taken strange twists and turns. He was an NFL head coach with Oakland at the age of 31, a head coach in the SEC at Tennessee two years later and became USC's head coach at just 34.
NCAA sanctions and injuries plagued the Trojans, of course, as they played ASU on Saturday night with just 56 recruited scholarship players. And I believe the impact of those sanctions has been underestimated. But even the lack of depth now could not buy Kiffin more time in L.A.
Haden will certainly reach out to all of the familiar big names, but USC should go hard after Greg Roman, who is the San Francisco 49ers offensive coordinator. While it would not be a sexy hire, Roman was integral to Stanford's success when Jim Harbaugh was in Palo Alto.
Dave Miller, the college football editor and writer for the National Football Post, is on Twitter @Miller_Dave.