January 22, 2013 -
Dave Miller
USC RB commit Isaac could switch to Notre Dame
With National Signing Day two weeks away, coaching staffs across the country continue to work toward keeping their current verbal commitments intact while also trying to land top uncommitted players as well as those who may have given a verbal pledge to rival schools.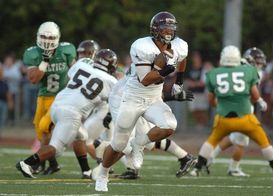 Will Ty Isaac flip from USC to Notre Dame?
Of course, all eyes February 6 will focus on Georgia defensive end Robert Nkemdiche, the nation's top overall player who was once committed to Clemson but has been linked to Ole Miss over the last several months as Rebels head coach Hugh Freeze continues to put together a dynamite crop of players in his first full recruiting class.
Other national players whose plans continue to waver include athlete Reuben Foster and defensive lineman Dee Liner of Alabama as well as Georgia defensive lineman Carl Lawson.
One player from the Midwest who continues to garner attention is Illinois running back Ty Isaac, who committed to USC last May. The 6-3, 217-pounder from Joliet Catholic Academy is a Top 5 running back nationally who many recruiting analysts believed would stay in the Midwest and attend either Notre Dame or Michigan.
While Isaac is currently on track to become a Trojan, rumors around Chicagoland recruiting circles have him planning to visit South Bend this weekend. Will he become the most recent 'SC decommit?
Although Notre Dame lost top linebacker Alex Anzalone to Florida, the Irish have still been able to comprise a Top 5 haul as of now. And Anzalone was always considered a Florida lean. Meanwhile, safety Max Redfield, who decommitted from USC, switched to Notre Dame. Could Isaac be next?
Despite being dismantled by Alabama in the BCS national championship game and having head coach Brian Kelly interview for the Philadelphia Eagles' opening, the Irish remain in good position nationally on the recruiting trail. While prospects who have given their verbal to a school often take other visits, Isaac had planned to graduate early and enroll at USC in January. But it doesn't appear that he will be in Los Angeles any time soon.
Isaac, who was Illinois' Player of the Year in 2011, was scheduled to visit 'SC on December 7 with other early enrollees but rescheduled his trip to mid-January. Now, he could end up in South Bend this weekend.
While he is coming off of an injury-plagued senior season, Isaac still rushed for 1,500 yards and 22 touchdowns, averaging 8.7 yards per carry this past fall. Notre Dame, which already has a commitment from Florida running back Greg Bryant, would love to add depth to its backfield with an Isaac flip. Getting Isaac would also be a big boost to the team's recruiting in the Chicagoland area, which hasn't been as strong as in the program's earlier glory years.