August 28, 2010 -
Dave Miller
USC still a work in progress on offense
Will defense have to be the calling card once again this season for USC?
If you were at Thursday's scrimmage at the Coliseum, you'd likely walk away feeling that way. It looked an awful lot like last year, when the defense carried the sputtering offense — with a few exceptions.
While quarterback Matt Barkley did throw for 255 yards and three touchdowns, he also tossed two interceptions — including one to a walk-on linebacker that was returned for a touchdown.
The running game didn't open any eyes, either, and all of a sudden the absence of a freshman — Dillon Baxter — is becoming a more pressing issue. Baxter played for the scout team because he is suspended for the season opener against Hawaii.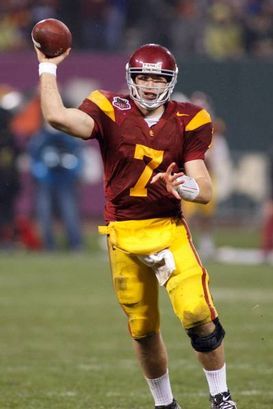 ICONMatt Barkley and his young receivers are still getting down their timing on routes.
With less than a week to go before the 2010 campaign commences and the offense doing anything but clicking, is it time to panic in Los Angeles?
It shouldn't be.
Barkley cited timing problems with freshmen receivers Robert Woods and Markeith Ambles as the reason for the picks. While he still acknowledged that they were unacceptable, he also knows the mistakes were correctable. And the fact is that Barkley had an awesome spring season, and head coach Lane Kiffin is the best thing to happen to Barkley. Remember the effect Kiffin had on Jonathan Crompton at Tennessee last season?
The lack of tackling, which is not allowed as Kiffin is trying to limit injury opportunities at this point in camp, also likely led to a lack of energy in the scrimmage.
"I will be confident no matter what (next week)," Barkley said. "It's just getting in the film room with (the freshmen)."
The offense also may have looked unspectacular because the offense line was not allowed to cut block, also to prevent injuries.
Perhaps the best point made by the brash first-year Trojans coach is that it's better to get the kinks out now rather than later.
"If you play young guys, you have to have the expectation they will make mistakes," he said. "It's better to do it now than wait until the fourth or fifth game when you're in the middle of the conference season."
Follow me on Twitter at Miller_Dave or send your college football questions to dave.miller@nationalfootballpost.com
Click here to purchase the Total Access Pass / Fantasy Draft Guide from the NFP.