December 22, 2011 -
Barry Dorey
USC's Barkley set to announce his intentions for 2012
Quarterback Matt Barkley will hold a news conference Thursday afternoon at 4 p.m. ET to announce whether he will stay for his senior year at USC or make himself eligible for the 2012 NFL Draft.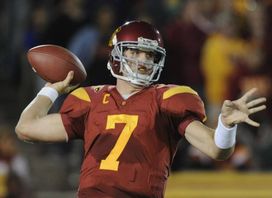 Will Matt Barkley return to USC for his senior season?
Barkley, who entered the Heisman Trophy race with an incredible second half of the 2011 season, threw for 3,528 yards and 39 touchdowns against only seven interceptions this fall.
Trojans defensive end Nick Perry and offensive tackle Matt Kalil already announced that they would enter the draft, while safety T.J. McDonald said that he would be returning to school.
Conventional wisdom says that Barkley will enter the 2012 NFL Draft. After all, he's coming off of his best collegiate season, he's certain to be a relatively high first-round pick (most importantly, Pete Carroll and the Seahawks would love to have him in Seattle) and he'll lose stud left tackle Kalil to the pros next year.
However, if he comes back, USC arguably would be a preseason Top 5 pick, mentioned with programs such as LSU, Oregon and Alabama. Would he want to cement his 'SC legacy by coming back and helping the Trojans earn a BCS berth after a two-year probationary stint?
If you were Barkley, what would you do? Would you go the route of Matt Leinart and return for a final season or take the same road as Mark Sanchez and leave school early?
Email dave.miller@nationalfootballpost.com or follow me on Twitter at Miller_Dave