October 24, 2011 -
Barry Dorey
USC's Galippo: Notre Dame 'just quit'
With USC leading 31-17 Saturday night in South Bend and taking possession of the football with 6:43 left in its contest against Notre Dame, Curtis McNeal became a workaholic.
The Trojans running back carried the ball 10 consecutive times, and 'SC moved all the way to the Notre Dame 2-yard line before time expired.
Surprisingly, Fighting Irish head coach Brian Kelly wasn't interested in calling any timeouts while 'SC was marching down the field.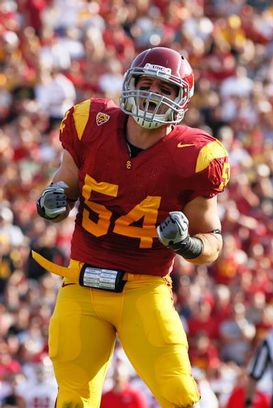 ICONUSC's Chris Galippo doesn't believe Notre Dame put up much of a fight in the closing minutes of their contest this past week.
"At the end there, when they didn't call those timeouts, they just quit," USC linebacker Chris Galippo said after the game. "And that's what Notre Dame football's about. They're not anything like USC."
Harsh words for the cross-country rival, but those sentiments were echoed by Matt Barkley, Galippo's teammate and USC's star quarterback.
"I would agree with that," Barkley said Monday in an interview on 710 ESPN. "I was shocked that they didn't use the timeouts because we got on the field with about seven minutes left, and I thought they were planning on stopping us and saving their timeouts for the end when they had the ball. It seemed from our sideline and our perspective that they did give up. It seemed uncharacteristic of Notre Dame. I wouldn't have wanted to have been on that sideline."
There's no question that the 'SC offensive line played its best game of the season, as the unit seemed to wear down the Irish defense. However, at his Sunday teleconference, Kelly said he didn't believe his team was worn down by Lane Kiffin's squad.
But the decision not to use his arsenal of timeouts certainly was worth raising an eyebrow.
To check out the full interview with Barkley, CLICK HERE.
Email dave.miller@nationalfootballpost.com or follow me on Twitter at Miller_Dave