October 13, 2012 -
Dave Miller
USF's B.O.T. chairman: Play of Bulls has been 'unacceptable'
Once again, South Florida is underachieving despite high expectations for the Bulls.
And head coach Skip Holtz is starting to feel an increased amount of heat as he tries to right a sinking ship.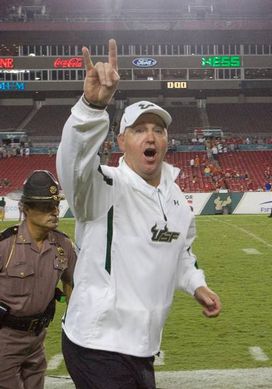 Skip Holtz has not had many wins to celebrate thus far this fall.
Sitting at 2-4 overall and 0-2 in the Big East, the Bulls entered their bye week riding a four-game losing streak, which includes defeats to Ball State and Temple. Athletic director Doug Woolard has issued a vote of confidence for Holtz and his staff, but he's also expressed disappointment in the team's start.
And now John Ramil, president and CEO of TECO Energy, a USF grad and chairman of USF's board of trustees, has come out and made his frustrations known, as Greg Auman of the Tampa Bay Times writes.
Ramil sent an e-mail to USF president Judy Genshaft following the school's loss to Temple and called the state of the program "disgusting and unacceptable" and that there are "major problems with our football program."
"I was expressing the same feeling of frustration as all the USF fans are feeling," Ramil told the Times. "I personally want what's best for all the USF programs, whether academic or sports. I also believe in candid feedback, and I think the president and the athletic director and the coaches need to have that kind of feeling of feedback from all the fans. I've given them feedback on good stuff, too."
However, Ramil believes that no decision should be made on Holtz until the end of the season.
"Right now, given everything in balance, while I wasn't happy after the game, I think I should be patient," he said. "I think we all should be patient. I think [athletic director] Doug Woolard's plan to work on things we can during the season and assess at the end is the right thing to do."
The Bulls will play at Louisville next week, which will certainly be a tough test. However, it is also a chance to get the season headed in the right direction in a league that always seems to produce a tight race year in and year out. But can this team get it together to salvage this season? After all, the Bulls have lost 10 of their last 11 conference games and are in danger of not playing in a bowl game for the second year in a row.
Another rough offseason could be on the horizon for Holtz, who is 15-16 in his third season at USF, if the team endures another bowl-less campaign. Despite Woolard giving Holtz an extension through the 2017 season this past June, the losses are certainly piling up in Tampa.
Email dave.miller@nationalfootballpost.com or follow me on Twitter at Miller_Dave