December 21, 2010 -
Dave Miller
Utah's head coach might adopt Twitter policy after latest incident
Utah head coach Kyle Whittingham was in a foul mood at Tuesday's MAACO Bowl Las Vegas press conference as he had to respond once again to off-the-field actions of a player.
Following the incident between players from both Utah and Boise State over the weekend at the Hard Rock Cafe, the Utes' DeVonte Christopher took to Twitter to continue the jabbing. The receiver tweeted on Monday, "I can't wait to get out here wit these Boise State or should I say Girlse State they a bunch of cheerleaders...lol."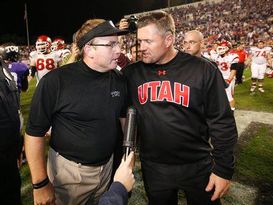 Utah head coach Kyle Whittingham (right) may have to establish a social-media policy for his players.
Whittingham said he might have to rethink his policy of not having a policy on social media.
"First I have to make a Twitter policy," he said. "But I tell our guys to be smart with how they handle their business and for the most part they do that. But going forward, I might have to put some hard and fast policy in place and use it."
The coach said there would be no disciplinary actions for Christopher but that the two had several conversations about it.
"DeVonte's tweet wasn't real exciting for me but players get excited and emotional," he said. "I don't think he means anything by it, I think he thought he was conversing with some close friends but that is besides the point."
Utah offensive lineman Zane Taylor hadn't heard about Christopher's tweet at the time the press conference started.
"I'm looking forward to finding out what that was all about," he said.
Email dave.miller@nationalfootballpost.com or follow me on Twitter at Miller_Dave