June 29, 2013 -
Dave Miller
Vanderbilt dismisses four players
Four Vanderbilt football players have been dismissed from the program and placed on interim suspension from the school amid a sex crimes investigation by the Metropolitan Nashville Police Department.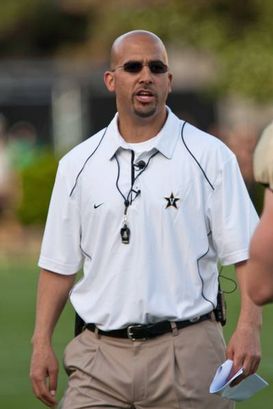 ICONFour players have been dismissed from James Franklin's Vandy program.
Vanderbilt announced this morning the dismissals and suspensions for violation of team rules of four players, all of whom were not identified. No arrests have been made thus far.
"The well-being of our students is of paramount concern to us, and we will not tolerate any actions that threaten student safety and security," said Beth Fortune, vice chancellor for public affairs at Vandy. Fortune did not give additional information about the players.
"Because it's an ongoing investigation, we will not be releasing names or other information about those suspended," she said.
Vanderbilt first reported the matter to the Metropolitan Nashville Police Department and is cooperating with the department's investigation.
"I can confirm that the Metropolitan Police Department's Sex Crimes Unit began an investigation on Wednesday in regard to a matter that was alleged to have occurred at a Vanderbilt University dormitory," said Don Aaron, a police spokesman. "Our sex crimes detectives became involved as the result of a notification to us on Wednesday from Vanderbilt University police. The investigation remains very much in progress."
The Commodores went 9-4 overall and 5-3 in the SEC last season in James Franklin's second year in Nashville. He has led the 'Dores to the postseason in back-to-back years.