May 21, 2013 -
Dave Miller
Vanderdoes having doubts about Notre Dame
Roughly two weeks after Matthew Thomas expressed his desire to be released from his Florida State scholarship, Eddie Vanderdoes reportedly may want out of his Notre Dame commitment as well.
The situation involving the pair of five-star recruits is something to monitor throughout the summer, as both the Seminoles and the Fighting Irish may be reluctant to grant the wishes of the impending freshmen.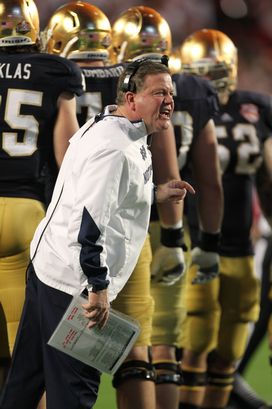 US PRESSWIREWould Brian Kelly release Eddie Vanderdoes from his scholarship? Not likely.
Florida State coaches reportedly visited with Thomas and his family recently to get him to maintain his commitment to the 'Noles, but Joe Davidson of The Sacramento Bee writes that the rift between Vanderdoes and the Irish may have begun on National Signing Day because of how the school handled his scholarship commitment.
The Vanderdoes family apparently wanted ND to keep his decision from leaking to the media because of his signing ceremony later that afternoon. Vanderdoes' name was initially listed on the morning announcement released to the media. In addition, sources told Eric Hansen of the South Bend Tribune that there are a multitude of reasons for a possible change of heart and they are uncertain of how this will ultimately play out.
Vanderdoes surprised a lot of recruiting analysts when he chose the Irish on National Signing Day this past February. The former USC commit, who was one of the best defensive tackles in the Class of 2013, chose the Irish over UCLA. Now all of the speculation centers on whether the 6-3, 310-pounder from Auburn, CA, wants to play for Jim L. Mora and the Bruins and stay in-state. Vanderdoes also may want to completely re-open his recruitment because he had numerous offers, including from USC and Oregon.
The question becomes whether Brian Kelly, who is not discussing this situation, is open to letting Vanderdoes out of his commitment. And that doesn't seem likely.
Once the Thomas news broke a few weeks ago, a lot of college football fans (especially those who want Thomas to land at their school) wondered why it is okay for head coaches to leave a program whenever they want but players are essentially prevented from it unless they want to sit out a season. That's obviously a conversation that has been ongoing for years, and the rules don't seem to be changing anytime soon. For now, ND fans just wonder if Vanderdoes will indeed ask to be released from his letter of intent.
If the defensive tackle asks Kelly for a release, Notre Dame would have to grant it in order for him to play right away. And that is unlikely. Vanderdoes would then have the option to appeal to the NCAA to be released from it or elect to sit out 2013 and transfer to play for another team in 2014. If that happens, ND's much-improved defensive line will take a hit.
The defensive tackle will be in line to get playing time in the rotation if he stays because he is just too talented to not make an impact in preseason camp. And the coaching staff has been depending on his contributions early. If Vanderdoes does not make it to South Bend, juniors Ishaq Williams or Ben Councell could move from outside linebacker to end. Williams is the most likely candidate because of his athleticism and the fact that he split time there in the spring. But there's no question that the Irish are counting on Vanderdoes to be in preseason camp in order to make their front seven even stronger this season and into the future. Keep in mind that the Irish are likely to lose junior end Stephon Tuitt and senior nose guard Louis Nix III (who has a fifth-year option) to the NFL Draft in 2014.
Will Vanderdoes decide to remain committed to ND, or will Kelly have to endure perhaps a PR nightmare if the defensive lineman wants out and he doesn't want to grant the wish?