October 29, 2010 -
Dave Miller
Versus cans show featuring Jenn Sterger
If you were a fan of Jenn Sterger's presence on "The Daily Line," you'll have to find another way to get your fix of the former Sports Illustrated online columnist.
Versus cancelled the unique sports show Friday, citing low ratings.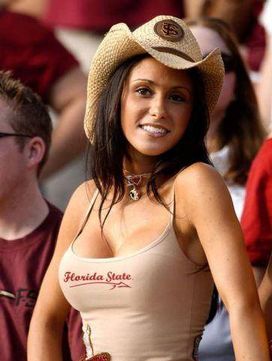 Former FSU Cowgirl Jenn Sterger.
Phil Reese, the manager of the former New York Jets sideline reporter, told The Associated Press the decision is "unfortunate" but "part of the business."
Of course, Sterger is the woman in the middle of the Brett Favre sext-gate controversy. She was allegedly sent lewd photos and inappropriate text messages by Favre when he was the Jets' quarterback in 2008. Reese said Sterger has not met with NFL investigators to discuss the incident but is leaning toward doing so.
Sterger became famous when she was shown on camera during a 2005 Florida State–Miami game. Announcer Brent Musburger famously commented that "1,500 red-blooded Americans just decided to apply to Florida State." She was part of the FSU Cowgirls, a group known to wear tiny tops, short shorts and cowboy hats.
You can follow Sterger on Twitter: @jennifersterger
Follow the Daily Jolt on Twitter: Daily_Jolt
The Daily Jolt is a section of the National Football Post that serves as a one-stop shop for all things football, sports, pop culture and everyday life.
The section's editor, Dave Miller, also writes the Against the Grain college football column for the NFP. When he isn't putting coaches on the hot seat, he can often be found daydreaming of being the future Mr. Katy Perry. You can follow him on Twitter at Miller_Dave.