May 13, 2014 -
Dave Miller
Very early Class of 2015 team recruiting rankings
It's very early in the current cycle, but recruiting is a seemingly never-ending pursuit for college coaches across America. And there are some programs that presently stand above others as staffs work hard to bring in the best crop of talent before National Signing Day next February.
With that in mind, let's take a look at how the National Football Post stacks up the Top 25 classes for 2015 as of now. And, of course, these rankings will fluctuate and are subject to change.
1. Alabama: The rich continue to get richer, as head coach Nick Saban and his top team of recruiters already have 15 pledges, led by New Jersey cornerback Minkah Fitzpatrick, Florida receiver Calvin Ridley, guard Lester Cotton, inside linebacker Leo Lewis and defensive ends Mekhi Brown and Anfernee Jennings. Defensive back Deionte Thompson and running back DeSherrius Flowers are also in the mix. And those are just some of the best of the 15. Another recruiting "title" could be on the horizon for the Crimson Tide.
2. Penn State: James Franklin is doing an incredible job since arriving from Nashville, where he was able to bring in high-level players to the Vanderbilt program. After salvaging PSU's 2014 class, Franklin's first full haul is looking outstanding, with a pledge from the state's top-ranked prospect (OT Sterling Jenkins) and a very intriguing New Jersey product (dual-threat QB Brandon Wimbush). Offensive tackle Ryan Bates, defensive tackle Adam McLean, wide receiver Juwan Johnson and running back Andre Robinson are also in the mix, and they are some of the best players at their respective positions.
3. Texas A&M: The Aggies have nine commitments, led by defensive tackle Daylon Mack, who is one of the best players in the country regardless of position. Head coach Kevin Sumlin also has pledges from defensive back Larry Pryor Jr. and tight end Jordan Davis, two of the best players at their respective positions. The Aggies were also able to flip offensive tackle Connor Lanfear from Texas.
4. Auburn: Coming off of their appearance in the BCS title game, Gus Malzahn and Co. had a string of pledges last month, including running back/safety Kerryon Johnson, guards Kaleb Kim and Marquel Harrell as well as tackle Bailey Sharp. Tyler Queen is an intriguing prospect at quarterback, while Jordan Colbert is a versatile safety/outside linebacker. Meanwhile, JUCO wide receiver Jason Smith and cornerback Tony Bridges have a chance to step in and contribute right away.
5. LSU: The Tigers have 10 players committed, led by Florida product Kevin Toliver II, who is the best defensive back in the country. Offensive lineman Maea Teuhema and running back Nick Brossette have also pledged. Head coach Les Miles and Co. should once again have an elite class because of the expected string of in-staters eventually committing.
6. Clemson: Dabo Swinney continues to bring top talent to Death Valley, and the 2015 class is led by a strong crop of offensive linemen. Mitch Hyatt is arguably the top tackle in the nation, while Jake Fruhmorgen and Noah Green are also committed to play O-Line. Dual-threat signal-callers Kelly Bryant and Tucker Israel are also on board to potentially run future offenses for Chad Morris (if he isn't a head coach somewhere else, of course).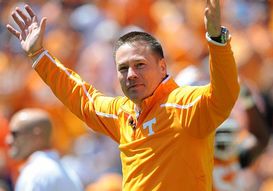 Butch Jones is primed to bring in another loaded class to Knoxville.
7. Tennessee: The Volunteers, coming off of an amazing 2014 haul, are in line for yet another strong class. They have 11 players committed as of now, led by wide receiver Preston Williams. Offensive lineman Jack Jones and defensive end Andrew Butcher are also in the mix, and Butch Jones will only continue to improve the talent level in Knoxville.
8. Florida State: Usually national-championship teams get a recruiting boost in the first full cycle after winning it all, but Jimbo Fisher is used to bringing in loaded classes to Tallahassee. Derwin James Jr. is the nation's top safety, and Tyrek Cole is one of the country's best cornerbacks. Offensively, Kendrick Norton is a versatile lineman, while dual-threat quarterback De'Andre Johnson has also pledged.
9. Miami (FL): Al Golden continues to raise the talent level in Coral Gables. The Hurricanes have pledges from running back Dexter Williams and tight end Bowman Archibald, who are two of the better players at their respective positions. And they are still in play for some of the top uncommitted prospects such as Torrance Gibson, CeCe Jefferson, Shy Tuttle and Jacques Patrick.
10. Texas: New head coach Charlie Strong landed a commitment on Monday from Zach Gentry, who is one of the better quarterbacks in the Class of 2015. The 6-6, 230-pound pocket passer from New Mexico is listed by Rivals.com as a four-star player. The Longhorns also have commitments from offensive linemen Toby Weathersby and Patrick Vahe, two of the better O-Linemen in the country, as well as DeShon Elliott, who is one of the country's top safeties.
11. Notre Dame: Brian Kelly and the Fighting Irish have already landed some intriguing offensive talent, including dual-threat quarterback Blake Barnett, top center Tristen Hoge and wide receiver Jalen Guyton. Meanwhile, the team also has a commitment from safety Prentice McKinney Jr.
12. Nebraska: Bo Pelini and his staff have pledges from the Missouri twin defensive tackle pairing of Carlos Davis and Khalil Davis as well as cornerback Eric Lee, who is one of the better DBs in the country. Texas dual-threat signal-caller Kevin Dillman was also a very nice pickup.
13. UCLA: Jim L. Mora continues to stockpile top talent in Westwood, as the Bruins have pledges from Josh Rosen, who is arguably the best quarterback in the Class of 2015, and Alize Jones, who is arguably the top tight end in this class. Meanwhile, the Bruins are still in play for top players such as Keisean Lucier-South, Iman Marshall and Christian Kirk, just to name a few.
14. South Carolina: The Gamecocks have pledges from eight players, led by defensive end Shameik Blackshear, who is one of the best weakside defensive ends in the country. Defensive back Mark Fields II and linebacker Sherrod Pittman are also committed. Steve Spurrier's program vaulted up these rankings with the recent pledges of dual-threat quarterback Lorenzo Nunez and tight end Kyle Markway, two intriguing prospects.
15. Georgia: The Bulldogs have seven pledges, highlighted by athlete Terry Godwin, who could ultimately end up at cornerback but has the athleticism and skill to contribute on offense as a wide receiver. He also is a very good kick returner. The team, which has commitments from defensive back Rico McGraw and defensive end Chauncey Rivers, also has a pledge from in-state defensive tackle Justin Young.
16. Baylor: The Bears, coming off of their Big 12 title last season, have pledges from top offensive talent such as John Humphrey Jr., Devontre Stricklin and Chad President at receiver along with Ja'Mycal Hasty at running back. And JUCO offensive tackle Maurice Porter is a nice "get." But there's no question that the receiver position will always be prioritized because of the Bears' high-oct ane offense. More top-flight WRs are certainly on their way to Waco.
17. Mississippi State: Dan Mullen is entering a crucial year in Starkville, but in the meantime he is putting together a really nice 2015 haul of talent. Defensive end Timothy Washington leads a list of 11 recruits in a class that also features JUCO wide receiver Donald Gray and fellow wideout Dontea Jones. The Bulldogs are doing very well in-state competing with Ole Miss.
18. Arkansas: The Razorbacks have commitments from eight recruits, led by defensive tackle Hjalte Froholdt, quarterback Ty Storey and defensive end Jamario Bell. Bret Beilema deserves some time in Fayetteville, and it appears that this class is going to remain strong depending on what the on-field product looks like in 2014. It helps that there are some intriguing prospects in the state of Arkansas this cycle.
19. West Virginia: Dana Holgorsen and his staff have hit Florida hard and struck it rich, with pledges from players such as wide receivers Jovon Durante and Kahlil Lewis, running back Alex Anderson and safeties Kendrell McFadden, Kevin Williams and Sheldrick Redwine.
20. TCU: The Horned Frogs have commitments from wide receivers Tony James and Jarrison Stewart as well as intriguing defenders Alec Dunham (OLB) and Breylin Mitchell (DE), who was a target of Oklahoma before giving his pledge to the Horned Frogs.
21. North Carolina: Larry Fedora and his staff are putting together a very strong class, and it's highlighted by tight end Carl Tucker, who is one of the best at his position. Offensive tackle Mason Veal is one of the better O-Linemen in the country, while dual-threat signal-callers Anthony Ratliff and Nathan Elliott are intriguing. Defensively, safety Ronnie Harrison and outside linebacker Andre Smith are nice lands from Florida.
22. Michigan: New offensive coordinator Doug Nussmeier landed his first quarterback recruit since arriving at the school, as the Wolverines received a commitment on Monday from in-state product Alex Malzone. The 6-1, 195-pound pocket passer is listed as the 16th-best QB in the 2015 class by Rivals.com. Malzone is the sixth recruit in the Wolverines' 2015 class, joining defensive backs Shaun Crawford, Tyree Kinnel and Garrett Taylor, offensive lineman Jon Runyan Jr. and kicker Andrew David.
23. USC: Steve Sarkisian has done a wonderful job since coming back to Los Angeles, as he has pledges from top Georgia offensive tackle Chuma Edoga and one of the best quarterbacks in the country, in-state signal-caller Ricky Town. Defensively, tackle Jacob Daniel is a nice pickup.
24. Missouri: One of the Tigers' top committed prospects is running back Chase Abbington, who is one of the best JUCO players in the country and was the team's best recruit in 2013 before having to go the JUCO route. Fellow running back Ryan Williams is also committed as is in-state signal-caller Drew Lock.
25. Iowa: Ohio outside linebacker Justin Hilliard is an aggressive east-to-west 'backer who also rushes the passer well. The Hawkeyes signed his older brother this past February, and Kirk Ferentz and Co. hope to land a pledge from the younger sibling. Iowa does have current commitments from dropback passer Jack Beneventi and dual-threat signal-caller Ryan Boyle as well as Iowa City athlete Drew Cook, who could emerge as a pseudo receiver/H-back.
Five more to keep an eye on
Northwestern
Kentucky
Arizona
Michigan State
Boise State
Dave Miller, the college football editor and writer for the National Football Post, is on Twitter @Miller_Dave.