April 06, 2013 -
Dave Miller
Vols continue to stockpile talent under Jones
Butch Jones has immediately put his stamp on the Tennessee football program, as the former Cincinnati head coach is quietly compiling one of the best Class of 2014 hauls in the nation.
D'Andre Payne, a cornerback from Washington, D.C., is the latest recruit to give a verbal pledge to the Volunteers, becoming the seventh commit in the class. The speedster, who announced his intention this past Wednesday, also considered Florida State, Clemson and many other top programs.
While Payne is a smaller corner, one glance at his film shows why he has been extended so many offers by top prorams. He is tough, has good instincts and is very quick. He plays with good technique and has good reaction to the football, and his football awareness could get him onto the field quickly in Knoxville.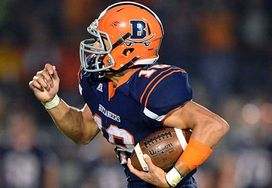 Jalen Hurd highlights the Vols' 2014 class.
Highlighting the Vols' 2014 haul as of now is running back Jalen Hurd, who is the highest-rated recruit in Jones' short tenure. The 6-3, 222-pound product from Beech Senior High School (Hendersonville, TN), who had strongly pondered heading to Ohio State and Florida before deciding to go to Rocky Top, is considered a five- or four-star talent on every major recruiting site. He broke the state of Tennessee's single-season record for rushing yards in 2012 with 3,357 yards and 43 touchdowns despite missing the equivalent of nearly three full games. He finished an astounding junior campaign with a 394-yard, seven-touchdown effort in a state championship victory. Hurd plans to be an early enrollee at Tennessee after graduating in December.
Jones has recognized the lack of running back depth upon arrival to Tennessee, so he made beefing up the backfield corps a top priority. Only one of three backs signed in 2012 (Alden Hill) remains on the roster, and the Vols were only able to land Jabo Lee this past February. So one day after Jones received a commitment from Hurd, he was able to land fellow tailback Treyvon Paulk, a 5-8, 190-pounder from Milton High School (Milton, GA). Paulk, who ran for 1,200 yards and 17 touchdowns as a junior in 2012, also had offers from schools such as Ole Miss, Cal and Wisconsin.
Along with the two star tailbacks, Jones also has verbal commitments from three legacies: cornerback Todd Kelly Jr., whose father played at UT; wide receiver Vic Wharton, whose uncle was a Vol; and wide receiver Neiko Creamer, whose father played in Knoxville. In addition, offensive lineman Coleman Thomas is also part of the current 2014 crop.
And Jones isn't done yet.
Many of the Vols' recruits have been on Twitter teasing about the program landing several more commitments before the school holds its Orange & White Game on April 20. And with the momentum that Jones has generated on the recruiting trail during his short tenure, it would not be surprising to see Tennessee add a few more commitments to a class that is unquestionably in the Top 10 for 2014 as of now. And there's room to grow.
While the Vols need to establish depth and more speed at a variety of positions, zeroing in on offensive and defensive linemen will likely be a priority. And, depending on how other programs do by next February's National Signing Day, that could help push this class closer to Top 5 territory.
We'll see how the Vols fare on the field in the fall. But Jones certainly has stirred the masses with his recruiting prowess thus far in Knoxville.