December 07, 2010 -
Dave Miller
Wannstedt could be on verge of being fired at Pittsburgh
Dave Wannstedt may not survive at Pittsburgh after all.
According to Paul Zeise of the Pittsburgh Post-Gazette, athletic director Steve Pederson will meet with Wannstedt over the next few days to discuss his future.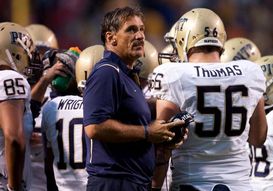 ICONWill Dave Wannstedt get a seventh season at Pittsburgh?
When asked a series of questions by the newspaper about the coach's future Monday night, Pederson "declined comment on the entire subject" through a university spokesman. Questions included, "Will Dave be the coach next year?" and "When will you meet with him, before the bowl game or after the bowl game?"
Pitt officials may believe they need to act fast if a move is going to be made because the Panthers play so late in the bowl season — Jan. 8 in the BBVA Compass Bowl. If Wannstedt was to be let go after that contest, it would be very difficult to hire a new staff without really taking a step back in the recruiting game, as national signing day is Feb. 2.
Wannstedt, who has compiled a 42-31 mark at Pitt, has been on the hot seat after more than one surprising loss this season, off-the-field incidents involving players getting arrested and dwindling attendance at Heinz Field.
However, the BCS-busting loss to West Virginia could have been the nail in the coffin.
Despite sharing the conference championship with Connecticut and West Virginia, the Panthers have yet to win the Big East championship outright and snag a BCS berth in six years under Wannstedt.
UPDATE: According to ESPN.com's Brian Bennett, Wannstedt will announce his resignation on Tuesday night and remain in the athletic department in a non-coaching capacity. After initially reporting that offensive coordinator Frank Cignetti Jr. was expected to be named interim coach and lead the Panthers in the bowl game against Kentucky, Bennett now states that Wannstedt has been given the option of staying on and coaching the Panthers in the bowl game. Wannstedt has not yet made a decision on whether to coach the final game of the season.
Email dave.miller@nationalfootballpost.com or follow me on Twitter at Miller_Dave