March 22, 2012 -
Dave Miller
Way-too-early 2012-13 Bowl Projections
With spring practices underway across the nation, there's no better time to take a way-too-early look at the 2012-13 bowl season.
Since some teams haven't officially opened spring drills yet, I will revisit these projections at the end of April/early May when all of the spring games/scrimmages are in the books. But for now, let's have some fun and look at some possible matchups next December and January.
Key
* Replacement team for a conference that does not have enough bowl-eligible teams.
Notes
The champions of specific conferences are contractually committed to certain bowls — unless they are No. 1 or No. 2 in the final BCS standings…
ACC = Orange; Big Ten = Rose; Big 12 = Fiesta; Pac-12 = Rose; SEC = Sugar
If a bowl loses a host team to the title game, then the bowl gets first choice at a replacement team. The rest of the selection order for 2012-13 is: Fiesta, Sugar and Orange.
If BYU is bowl-eligible, it will play in the Poinsettia Bowl.
If Army is bowl-eligible it will play in the Military Bowl.
If Navy is bowl-eligible, it will play in the Kraft Fight Hunger Bowl.
Non-BCS bowls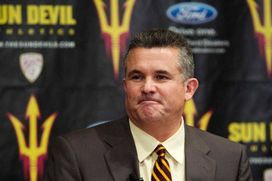 Can Todd Graham get the Sun Devils bowling in his first season in Tempe?
New Mexico: Air Force (MWC No. 4/5) vs. Arizona State (Pac-12 No. 7/WAC)
Famous Idaho Potato: Louisiana Tech (WAC) vs. Northern Illinois (MAC No. 3)
New Orleans: Troy (Sun Belt No. 1) vs. Houston (C-USA)
Beef 'O'Brady's: Central Florida (C-USA) vs. Cincinnati (Big East No. 6)
Poinsettia: Wyoming (MWC No. 2) vs. BYU (BYU)
Maaco: Boise State (MWC No. 1) vs. Cal (Pac-12 No. 5)
Hawaii: Hawaii (MWC/WAC) vs. East Carolina (C-USA)
Independence: Nevada (MWC No. 3) vs. Miami, FL (ACC No. 7) [Are Hurricanes looking at a bowl ban?]
Little Caesars: Miami, OH (MAC) vs. Northwestern (Big Ten No. 8)
Belk: South Florida (Big East No. 3) vs. Georgia Tech (ACC No. 5)
Military: Wake Forest (ACC No. 8) vs. Notre Dame* (Army)
Holiday: Utah (Pac-12 No. 3) vs. Baylor (Big 12 No. 5)
Champs Sports: Louisville (Big East No. 2) vs. Florida State (ACC No. 3)
Alamo: Stanford (Pac-12 No. 2) vs. Kansas State (Big 12 No. 3)
Armed Forces: Tulsa (C-USA) vs. San Diego State (MWC)
Pinstripe: Pittsburgh (Big East No. 4) vs. Iowa State (Big 12 No. 7)
Music City: N.C. State (ACC No. 6) vs. Missouri (SEC No. 7)
Insight: Texas (Big 12 No. 4) vs. Penn State (Big Ten No. 4/5)
Meineke Car Care of Texas: Illinois (Big Ten No. 6) vs. Texas Tech (Big 12 No. 6)
CONTINUE TO PAGE 2 FOR MORE BOWL PROJECTIONS, INCLUDING THE BCS MATCHUPS