January 07, 2014 -
Dave Miller
Way-too-early 2014 Top 25
Subscribe to the "Against the Grain with Dave Miller" podcast in iTunes
With the 2013 college football season officially in the books following Florida State's incredible comeback win over Auburn in the Bowl Championship Series national championship game at the Rose Bowl in Pasadena, let's take a look at a way-too-early potential Top 25 heading into next season.
The countdown to next year begins now — we are 234 days away from the start of the 2014 season (unless my math is off; I was an English major). What does the future of college football hold with the advent of the first-ever four-team playoff?
With that in mind, let's take a glance at how the National Football Post stacks up the Top 25 heading out of the title game in Pasadena. And, of course, these rankings ARE subject to change, especially as we see which underclassmen officially leave early for the NFL Draft as well as how and when the coaching carousel finally stops spinning.
Note: This week at the NFP I will break down the Top 25 more in depth…
1. Florida State
2. Auburn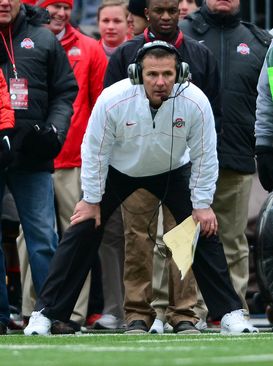 US PRESSWIREUrban Meyer brings back a talented Buckeyes squad in the fall.
3. Ohio State
4. Alabama
5. Stanford
6. Oregon
7. Baylor
8. UCLA
9. Michigan State
10. Oklahoma
11. Georgia
12. Oklahoma State
13. USC
14. LSU
15. Missouri
16. South Carolina
17. Washington
18. Ole Miss
19. Miami (FL)
20. Texas A&M
21. Wisconsin
22. Notre Dame
23. North Carolina
24. Arizona State
25. Texas
The next five: Clemson, Michigan, BYU, Arizona and Vanderbilt
Others in the mix: Utah State, Florida, Bowling Green, Central Florida, Duke, Houston, Kansas State and Nebraska
Too early to tell?: Because of question marks at the head-coaching position, I am leaving Louisville and Penn State off of this list. But there is talent on both rosters, with the Cardinals being best-positioned to flirt with the Top 25 even without star quarterback Teddy Bridgewater.
Dave Miller, the college football editor and writer for the National Football Post, is on Twitter @Miller_Dave.