November 10, 2014 -
Dave Miller
Week 12 NFP Heisman Watch
With 11 weeks of the 2014 college football season in the books, the Heisman Trophy race has never been hotter.
While the best teams in the country are doing their best to rise up the College Football Playoff Top 25 rankings, the nation's best players are trying to remain in the mix for a trip to New York for the Heisman ceremony.
Let's take a look at the candidates that I think are best-positioned for the individual honor.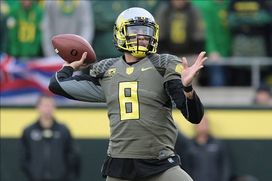 Marcus Mariota may be the frontrunner for the sport's most prestigious individual honor.
Oregon QB Marcus Mariota: The veteran Ducks signal-caller recorded four touchdowns and 353 total yards in the team's 51-27 win at Utah on Saturday night. He was 17-of-29 passing for 239 yards and three touchdowns and added 114 yards and a score on the ground. Mariota has a marquee nonconference win over Michigan State under his belt, helped solve the Ducks' Stanford problem and has worked behind a battered offensive line for most of the season, which was part of the reason why the Ducks fell at home to Arizona. He is headed to New York, and right now he is the leader in the race.
2014: 186 of 277 passing for 2,780 yards, 29 TDs and 2 INTs; 89 rushes for 524 yards and 8 TDs.
Mississippi State QB Dak Prescott: The Bulldogs' dual-threat signal-caller recorded three touchdowns and 260 total yards in the team's 45-16 win over Tennessee-Martin, which was essentially a warmup game before the team's showdown with Alabama this weekend. Prescott will have a chance against the Crimson Tide as well as the Egg Bowl against Ole Miss to have signature games in his quest to make it to New York and perhaps beat out Mariota.
2014: 146 of 239 passing for 2,231 yards, 18 TDs and 7 INTs; 143 rushes for 779 yards and 11 TDs.
Wisconsin RB Melvin Gordon: The star Badger had 120 yards or more for the seventh straight time in the team's win over Purdue. He recorded 205 yards, which was the third time he has had at least 200 yards this fall, and had a rushing and a spectacular receiving touchdown against the Boilermakers. All eyes will be on his upcoming matchup with Ameer Abdullah and Nebraska, although we still don't know exactly how healthy Abdullah will be when the teams meet in a crucial Big Ten West division clash.
2014: 198 rushes for 1,501 yards and 19 TDs; 11 receptions for 83 yards and 2 TDs.
Alabama WR Amari Cooper: The star wide receiver caught eight passes for 83 yards and the Crimson Tide's only touchdown in the overtime win at LSU. He did have issues with drops, but he's one of the top offensive weapons in the country. It's tough for receivers to get Heisman recognition unless they are standout return men, but a former Heisman winner told me earlier in the season that Cooper is doing things as a receiver that you only see on Sundays, calling him "possibly the best player in the country." He has the Alabama career record for receiving yards and the record for single-season receiving yards, and he's not done yet.
2014: 79 catches for 1,215 yards and 10 TDs.
TCU QB Trevone Boykin: The new-look Horned Frogs offense is being run efficiently by Boykin, who had four touchdowns (one passing and three rushing) in the team's 41-20 win over a very good Kansas State squad on Saturday. He was 23-of-34 passing for 219 yards, and he added 123 yards on the ground with running back B.J. Catalon out. He has had some games where accuracy was an issue, but his poise and his determination have been noteworthy throughout the campaign.
2014: 203 of 350 passing for 2,691 yards, 23 TDs and 4 INTs; 111 rushes for 546 yards and 7 TDs.
Ohio State QB J.T. Barrett: The redshirt freshman was outstanding in the Buckeyes' 49-37 win over Michigan State in East Lansing. The signal-caller led the offense on seven touchdown drives, as he finished 16-of-26 passing with three touchdowns and rushed 14 times for 86 yards and two scores. And he had zero turnovers. Barrett has dramatically improved each week throughout the year, and he has thrown 23 touchdowns and just three interceptions while also running for seven scores since the loss to Virginia Tech.
2014: 150 of 233 passing for 2,156 yards, 26 TDs and 7 INTs; 119 rushes for 582 yards and 8 TDs.
Dave Miller, the college football editor for the National Football Post, is on Twitter @Miller_Dave.