November 25, 2014 -
Dave Miller
Week 14 NFP Heisman Watch
With 13 weeks of the 2014 college football season in the books, the Heisman Trophy race is reaching its waning days.
While the strongest teams in the nation are doing their best to rise up the College Football Playoff Top 25 rankings, the country's most prolific players are trying to remain in the mix for a trip to New York for the Heisman ceremony.
Let's take a look at the candidates that I think are best-positioned for the individual honor.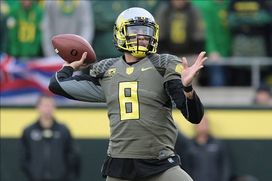 Marcus Mariota will be tough to beat for college football's most prestigious individual honor.
Oregon QB Marcus Mariota: The veteran Ducks signal-caller recorded four touchdowns in the team's easy 44-10 win over Colorado this past weekend. Mariota went 24-of-32 passing for 323 yards and three touchdowns, and he added 73 more yards and a score on the ground. In the victory over the Buffaloes, he broke former USC quarterback Matt Barkley's Pac-12 record for single-season touchdown passes. The redshirt junior has 42 total touchdowns on the year entering the regular-season finale at Oregon State. Mariota has a marquee nonconference win over Michigan State under his belt, helped solve the Ducks' Stanford problem, has worked behind a battered offensive line for a good part of the season (which was part of the reason why the Ducks fell at home to Arizona) and has tossed just two interceptions all season. He is headed to New York, and right now he is the leader in the race.
2014: 210 of 309 passing for 3,103 yards, 32 TDs and 2 INTs; 97 rushes for 597 yards and 9 TDs.
Wisconsin RB Melvin Gordon: One week after he rushed for a major college-record 408 yards and four touchdowns in a 59-24 win over Nebraska (a mark that was broken this past weekend by Oklahoma's Samaje Perine), the star Badger rushed for 200 yards and two touchdowns in the team's 26-24 win over Iowa. Gordon surpassed the 2,000-yard rushing mark for the season, becoming the fastest player in FBS history (in terms of number of carries) to reach the 2K mark. He has had 120 yards or more in nine straight games and has reached the 200-yard mark five times this fall. He is at least No. 2 in this race and has a legitimate argument to be No. 1.
2014: 254 rushes for 2,109 yards and 25 TDs; 15 receptions for 147 yards and 2 TDs.
Alabama WR Amari Cooper: The star wide receiver was injured in the team's win over Western Carolina this past weekend, so he was only able to catch three passes for 46 yards in his lone series. However, he caught eight passes for 88 yards and a score in the team's huge win over Mississippi State the previous week and had eight catches for 83 yards and the Crimson Tide's only touchdown in the overtime win at LSU one week earlier. While he has had some issues with dropped passes, he's one of the top offensive weapons in the country. It's tough for receivers to get Heisman recognition unless they are standout return men, but a former Heisman winner told me earlier in the season that Cooper is doing things as a receiver that you only see on Sundays, calling him "possibly the best player in the country." A big game against Auburn in the Iron Bowl should cement his Heisman invite.
2014: 90 catches for 1,349 yards and 11 TDs.
TCU QB Trevone Boykin: The new-look Horned Frogs offense is being run efficiently by Boykin, who enjoyed a bye last weekend but is now preparing to face Texas in a very important Thanksgiving night showdown. In his last game, Boykin helped lead the Frogs to a comeback win at Kansas. He passed for 330 yards and a touchdown, and he also had an interception while being held in check by the Jayhawks on the ground. He has had some games where accuracy was an issue, but his poise and his determination have been noteworthy throughout the campaign. Coming up big in closing games at Texas and against Iowa State will be huge for his candidacy.
2014: 229 of 386 passing for 3,021 yards, 24 TDs and 5 INTs; 122 rushes for 548 yards and 7 TDs.
Ohio State QB J.T. Barrett: The redshirt freshman was 25-of-35 passing for 302 yards and four touchdowns against two interceptions in the Buckeyes' pull-away victory over Indiana last weekend. He added 78 yards on the ground while setting the school mark for touchdown passes in a season at 33. He has garnered serious buzz ever since his outstanding effort in the Buckeyes' win over Michigan State in East Lansing. The signal-caller has dramatically improved each week since the loss to Virginia Tech, and he'll have a chance to pad his stats this week in the rivalry game against Michigan before the team plays in the Big Ten title game.
2014: 190 of 293 passing for 2,658 yards, 33 TDs and 10 INTs; 156 rushes for 849 yards and 9 TDs.
Others in consideration:
Indiana RB Tevin Coleman
Mississippi State QB Dak Prescott
UCLA QB Brett Hundley
USC QB Cody Kessler
Dave Miller, the college football editor for the National Football Post, is on Twitter @Miller_Dave.