September 11, 2012 -
Dave Miller
Week 3 Big East power rankings
Every Tuesday during the season I will release league power rankings, which you can find under the College tab at the top of this page. The six BCS conferences will all have their own power rankings, while I will also rank the best of the non-BCS squads.
With that in mind, let's take a look at how the Big East shapes up:
1. Louisville (2-0): Quarterback Teddy Bridgewater had another great game, completing 30 of 39 passes for a career-high 344 yards as the Cardinals beat Missouri State 35-7.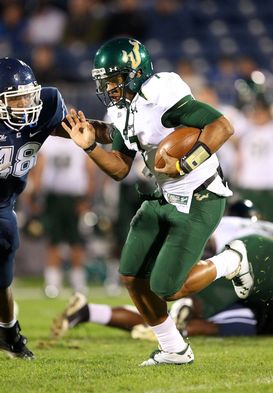 US PRESSWIREB.J. Daniels and USF sit at 2-0 after a victory over Nevada.
2. South Florida (2-0): B.J. Daniels passed for 363 yards and three touchdowns, including a 56-yard scoring toss to Andre Davis with 38 seconds left, to help the Bulls come from behind for a 32-31 win at Nevada.
3. Rutgers (2-0): The Scarlet Knights limited Howard to 149 total yards in a 26-0 victory.
4. Cincinnati (1-0): George Winn ran for a pair of touchdowns, including a 58-yarder on Cincinnati's first play of the game, as the Bearcats dropped Pittsburgh to 0-2 after a 34-10 victory.
5. Connecticut (1-1): The Huskies had four turnovers in a 10-7 loss at home to NC State.
6. Syracuse (0-2): The Orange allowed six touchdown passes to Matt Barkley in a 42-29 loss to USC.
7. Temple (1-1): The Owls could not finish the rally from a 23-point deficit, as they fell 36-27 to Maryland.
8. Pittsburgh (0-2): Paul Chryst's tenure at Pitt has started off in disastrous fashion as the Panthers lost to Cincinnati last Thursday night.
Email dave.miller@nationalfootballpost.com or follow me on Twitter at Miller_Dave