September 20, 2010 -
Dave Miller
Week 3 college football notebook
…It's been a rough first season for Butch Jones at Cincinnati thus far. The Bearcats fell to 1-2 after giving up nearly 500 total yards in their loss to N.C. State last Thursday night, and things won't get any easier for the Bearcats when they face Oklahoma next weekend. Jones has a lot of work to do if Cincy wants to win a third straight Big East title.
…How crazy has Kansas' season been after just three games? First, the team loses a shocker at home in the opener to North Dakota State 6-3. Then, the Jayhawks stun Georgia Tech in Lawrence the following week. Saturday, Turner Gill's squad followed up the win over the Yellow Jackets with a loss at Southern Miss. The Jayhawks are young on offense, so expect coordinator Chuck Long's unit to battle inconsistency all season.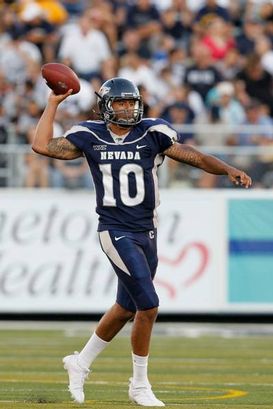 ICONColin Kaepernick and Nevada scored a victory over Cal Friday night.
…Raise your hand if you bought into Cal as a Pac-10 contender this season. The Golden Bears were exposed Friday night, and Kevin Riley played like, well, Kevin Riley. The senior tossed three interceptions and the defense couldn't stop Colin Kaepernick and the Wolf Pack attack.
…Georgia fell to 0-2 in SEC play with its loss to Arkansas, but quarterback Aaron Murray helped rally the Bulldogs from a 24-10 fourth-quarter deficit to tie the game. It's clear that the Dawgs miss wide receiver A.J. Green, and it's a shame that Murray doesn't have his stud wideout to work with — because he has poise in the pocket and this unit can be dangerous when at full strength.
…Michigan defensive coordinator Greg Robinson may want to start making copies of his resume after the performance of his unit Saturday against Massachusetts.
…With Maryland's Ralph Friedgen suffering his first loss of the year and Georgia's Mark Richt falling to 0-2 in the SEC, College Park and Athens are officially the Hot Seat capitals of the college football world — fair or not. Chapel Hill? Well, that goes without saying.
…I know he had the fumble that led to Temple's go-ahead touchdown Saturday, but Connecticut's Jordan Todman should be praised for essentially being the Huskies' entire offense against the Owls. Quarterback Zach Frazer doesn't seem to have improved very much from last season.
…How ugly can things get this season in Oxford? Mississippi converted just 5 of 18 third-down opportunities against Vanderbilt, and the Rebels now have two awful home losses to start the season. Ole Miss fell to Jacksonville State 49-48 in double overtime in the season opener.
…I must have been insane to think that Duke would hang a little bit with Alabama. David Cutcliffe is doing a nice job in Durham, but the Blue Devils obviously have a long way to go before they are able to compete with the class of the SEC.
…How great would it be if we were treated to an old-school Nebraska vs. Oklahoma Big 12 championship game? The Cornhuskers looked scary good at Washington. Speaking of the Huskies, will Nick Holt's defense be able to stop anyone in the Pac-10 this year?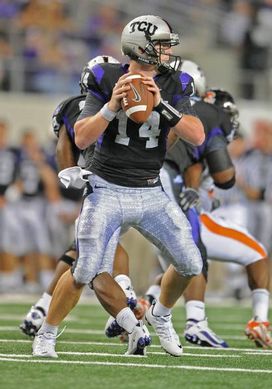 ICONYou'd be foolish to take Andy Dalton and TCU lightly this season.
…Boise State gets all the non-AQ love. But don't sleep on TCU, which scored touchdowns on its first five drives against Baylor en route to an easy victory over Robert Griffin and Co. Ed Wesley, Andy Dalton and Jeremy Kerley give the Horned Frogs enough firepower on offense to complement an attacking defense.
…Oregon State didn't look great against Louisville Saturday — particularly in the second half, where it struggled against TCU in the opener. Adam Froman rallied Louisville to give the Beavers a scare at the end. Perhaps they were looking ahead to this week when they take on Kellen Moore and Boise.
…By the way, LaMichael James is still running against Portland State. A career-high 227 yards and two scores on just 14 carries. Are you kidding me?
…LSU's Bayou Bengals defense may indeed be back. The Tigers put on a show against Dan Mullen's Mississippi State squad, but the question remains whether Jordan Jefferson could give LSU good enough play under center to compete with the likes of Alabama for SEC supremacy.
…Even in blowing an early big lead, Dabo Swinney's Clemson squad was impressive playing in a tough environment. I wasn't the biggest fan of the Swinney hire, but his players always seem to play hard. That could have been a huge win for the ACC, though, if Clemson could have stolen the road victory.
…Joker Phillips became the first Kentucky head coach to win his first three games since Bear Bryant in 1946. The Wildcats can score some points, but can they deliver a signature SEC win?
…Oklahoma State racked up 722 yards of total offense to break the school record of 717 set against Kansas during Barry Sanders' Heisman Trophy season in 1988. Quarterback Brandon Weeden must be having fun in the Cowboys' new spread attack.
…Northwestern's Dan Persa may be the best quarterback you don't know about. The Wildcats signal caller is 62-of-76 passing for 769 yards and six touchdowns on the season. He has also yet to throw a pick, seamlessly transitioning NU's offense from the Mike Kafka era.
…I had concerns about Andrew Luck without Toby Gerhart this season at Stanford. It's safe to say that Luck's play thus far has erased any questions from my mind about his ability to lead the Cardinal offense this season. However, those black uniforms have to be retired.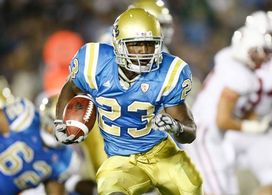 ICONJohnathan Franklin helped the UCLA offense finally click against Houston.
…Johnathan Franklin rushed for 158 yards and three touchdowns to help stop the bleeding for UCLA, which rolled to a 31-13 victory over Houston. It was very disheartening, however, to hear the news Sunday that Cougars quarterback Case Keenum will miss the rest of the season after tearing his right ACL.
…The most troubling aspect for Iowa in its loss to Arizona was the poor special teams play. The Wildcats are going to score points all season long, but the Hawkeyes just made it too easy for them at Arizona Stadium.
…For some reason, Notre Dame and Michigan State always play one of the best games of the college football season — seemingly every single year. Saturday was the ninth time in the last 11 meetings between the teams that the game was decided by seven points or less and it was the second OT affair since 2005.
…I expect Steven Sheffield to see some action real soon under center for Texas Tech.
Have a college football question? Feel free to send me an email at dave.miller@nationalfootballpost.com.
Follow me on Twitter at Miller_Dave
Click here to win cash today playing fantasy football with the NFP and FanDuel.