September 15, 2014 -
Dave Miller
Week 4 College Football Playoff projections
USC and Virginia Tech were upset victims this past Saturday, while Georgia was unable to pull off a road win at South Carolina. Those three results shook up the Top 25 rankings a bit.
Last week I offered my projections for the 'New Year's Six' bowl games that are scheduled to take place this season, as seen below:
Wednesday, December 31
12:30 p.m. Peach Bowl
4 p.m. Fiesta Bowl
8 p.m. Orange Bowl
Thursday, January 1
12:30 p.m. Cotton Bowl
5 p.m. Rose Bowl
8:30 p.m. Sugar Bowl
The College Football Playoff, which begins this season, features the four top teams as selected by a selection committee. The Rose Bowl and the Sugar Bowl will host the first semifinals, which will pair No. 1 versus No. 4 and No. 2 versus No. 3, respectively. The winners of those games will battle in the inaugural College Football Playoff national championship game at AT&T Stadium in Arlington, TX, on January 12, 2015.
In Week 2 Ohio State fell victim to Virginia Tech, which fell at home to East Carolina on Saturday. Meanwhile, USC was physically decimated by the Boston College rushing attack, and South Carolina stayed alive in the SEC East race with a thrilling win over Georgia. With the results of this past weekend, did I amend my CFP projections?
Note: One team from the so-called Group of Five (American Athletic, MAC, Mountain West, Conference USA and Sun Belt) will get chosen for either the Cotton, Fiesta or Peach Bowl.
The College Football Playoff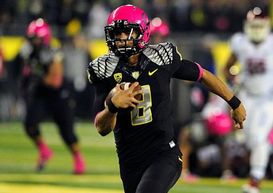 Marcus Mariota and the Ducks could be primed for a spot in the CFP.
Semifinal—Rose (Pasadena): No. 2 Oregon vs. No. 3 Alabama
Semifinal—Sugar (New Orleans): No. 1 Florida State vs. No. 4 Michigan State
National Championship—(Arlington): The winners of the two semifinals meet
The CFP Selection Committee bowl games
Dec. 31 Peach (Atlanta): Georgia (At-Large) vs. USC (At-Large)
Dec. 31 Orange (Miami): Clemson (ACC) vs. Auburn (Big Ten/SEC/Notre Dame)
Dec. 31 Fiesta (Glendale): UCLA (At-Large) vs. Oklahoma (At-Large)
Jan. 1 Cotton (Arlington): Baylor (At-Large) vs. Cincinnati (At-Large)
I am still sticking with Michigan State, which enjoyed a bye week following its loss at Oregon, to snag the fourth and final playoff spot. I am projecting the Spartans to run the table, and I think they would get rewarded for playing a very tough nonconference game and playing very well for more than a half of action against the Ducks. If MSU runs the table, I think the committee will determine that Mark Dantonio's squad is one of the best teams in the country.
After Virginia Tech's loss to East Carolina, I replaced the Hokies in the Orange Bowl with Clemson. The Tigers were originally slotted in that spot before but I looked at VT's schedule and thought that Frank Beamer's squad — if it was able to get by ECU — would have a chance for that spot. Although I believe Clemson will lose to Florida State, I think the Tigers have a chance to continually improve throughout the season.
Other than that, things remain status quo this week. Oklahoma looked very impressive on defense this past week in its win against Tennessee, but I still think there's a slip-up on that schedule (as is the case with Baylor). However, the Sooners impress me more and more each week. I'm also going to stick with USC in a 'New Year's Six' game. As bad as the Trojans looked in their loss to Boston College, it appeared that they were exhausted from their tilt last week at Stanford. I am worried, however, about defensive line depth. And I kept the Trojans' opponent in the Peach as Georgia because I like the Bulldogs' schedule better than that of South Carolina.
Finally, I am keeping Cincinnati in the Cotton as the AAC champion, although the Thursday night game on November 13 between the Bearcats and East Carolina could ultimately be for the AAC title and Group of Five 'New Year's Six' bowl slot. That game will be in Cincinnati.
The weekly releases of College Football Playoff rankings will debut on October 28 and be subsequently unveiled each and every Tuesday night thereafter. The four teams ultimately selected to participate in the semifinal matchups will be announced on the weekend of December 7.
Certainly things have only begun to get interesting as we head into Week 4.
Dave Miller, the college football editor for the National Football Post, is on Twitter @Miller_Dave.