September 16, 2014 -
Dave Miller
Week 4 NFP Heisman Watch
If we're already talking potential College Football Playoff participants and bowl projections, it's not too early to forecast the Heisman Trophy race.
Let's take a look at the early leaders after three weeks of action.
Oregon QB Marcus Mariota: The leader of the Ducks' up-tempo, high-octane offense is one of the most lethal weapons in the nation, as he's recorded 11 touchdowns on the season (eight through the air, three on the ground). The dual-threat signal-caller led the Ducks on six consecutive scoring drives in a 48-14 win over Wyoming last week, seven days after he completed 17-of-28 passes for 318 yards and three touchdowns while adding 42 yards on the ground in a marquee nonconference win over Michigan State to help vanquish some of the demons the program has faced against physical yet athletic defenses. Mariota's two critical plays in the third quarter of that contest — a shovel pass completion to RB Royce Freeman for 17 yards on a third-and-10 and an 11-yard run on a third-and-9 — both helped the Ducks extend and score on the drives to help erase a nine-point deficit. Mariota battled heavy pressure all day and turned in a strong performance against a stout Spartans defense, and he's looking like the performer who was right there with Jameis Winston in last year's Heisman Trophy race before being hampered by a knee injury.
2014: 50 of 71 passing for 806 yards, 8 TDs and 0 INTs; 20 rushes for 156 yards and 3 TDs.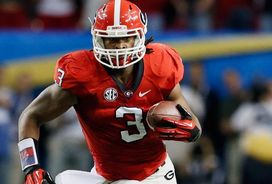 Todd Gurley should remain in the Heisman mix — if he gets enough touches.
Georgia RB Todd Gurley: The Bulldogs, coming off of a bye, battled SEC East rival South Carolina on the road in a thriller this past weekend. Despite the loss, the junior tailback carried 20 times for 131 yards and a touchdown in the 38-35 setback. That effort came after his Week 1 performance against Clemson in which he recorded three touchdowns on the ground and took back a kickoff the distance for a score. A healthy Gurley is a very dangerous Gurley. A "beast mode" Gurley. He said his goal for 2014 is to play in every game. If he does, he could net an invite to New York for the Heisman ceremony — if Georgia's play-calling doesn't get in the way. If he gets the carries, he should put up big numbers against Troy this week.
2014: 35 rushes for 329 yards and 4 TDs; 5 receptions for -1 yard and 0 TDs, 1 kickoff-return TD.
Texas A&M QB Kenny Hill: No Johnny Manziel, no problem for the Aggies. Hill wowed the nation in the season opener with his coming-out party, as he shattered Manziel's school record for passing yards in a game in a thorough road beating of South Carolina. He followed that effort up by going 17-of-26 through the air for 283 yards and four TDs in a 73-3 win over Lamar, departing the game with 7:13 left in the third quarter. And last weekend against Rice, he threw for 300 yards and four touchdowns, becoming the first player in school history to throw for 1,000 yards in the first three games of a season. Up next is SMU, so Aggie fans can expect more big numbers for Hill, who has thrown 11 touchdowns against no interceptions this season.
2014: 81 of 117 passing for 1,094 yards, 11 TDs and 0 INTs; 14 rushes for 49 yards and 0 TDs.
Notre Dame QB Everett Golson: The Fighting Irish are enjoying their best start offensively in the Brian Kelly era, and a lot of that success has to do with the near-flawless play of the dual-threat signal-caller Golson, who returned to the starting lineup after a season-long suspension. His extensive work in San Diego with quarterback instructor George Whitfield Jr. and his staff has dramatically improved his game. The QB is bigger and stronger this season, has very good velocity on his throws and has really improved his footwork and overall mechanics. He's been accurate with good touch on this throws en route to recording 11 touchdowns (seven through the air and four on the ground) in three games. The Fighting Irish have a brutal schedule to navigate, but Golson gives the team a weapon at quarterback that even some of the elite programs do not possess. And he's doing it with a rushing attack that's been rather pedestrian and an offensive line that has been a bit leaky.
2014: 62 of 96 passing for 780 yards, 7 TDs and 0 INTs; 29 rushes for 83 yards and 4 TDs.
Alabama WR Amari Cooper: The star wide receiver for the Crimson Tide has 33 catches for 454 yards and two touchdowns on the year following his eight-catch, 135-yard, one-touchdown effort against Southern Miss last week. It's extremely tough for receivers to get Heisman love unless they are standout return men, but new 'Bama OC Lane Kiffin is making sure that Cooper gets a ton of looks. I thought the Tide would spread the ball around a little bit more, but Cooper has taken advantage of his opportunities. Florida's secondary has to be better than it showed against Kentucky last week, so Saturday's contest will be a test for Cooper. But the real test could come with the next game at Ole Miss because that Rebels secondary is nasty.
2014: 33 catches for 454 yards and 2 TDs.
Florida State QB Jameis Winston: The defending Heisman Trophy winner and the Seminoles had a bye this past weekend ahead of their showdown ACC contest against Clemson. Winston shook off a bit of a shaky start in the season opener, when he tossed two interceptions against Oklahoma State, by going 22-of-27 through the air for 256 yards and 2 TDs in a 37-12 win over The Citadel in Week 2. He departed the game in the third quarter against the FCS squad but not before leading the Seminoles to scores on all six drives. Jimbo Fisher's team hosts Clemson this weekend, so it will be a showcase game for Winston, who almost has to surpass last year's stats to repeat as the Heisman winner. He was able to throw a career-high 444 yards and three scores last season against the Tigers in an ACC laugher.
2014: 47 of 67 passing for 626 yards, 3 TDs and 2 INTs; 7 rushes for 11 yards and 1 TD.
Others to watch
BYU QB Taysom Hill (689 passing yards, 4 TDs and 3 INTs, 356 rushing yards and 6 TDs).
Nebraska RB Ameer Abdullah (396 rushing yards and 3 TDs, 4 catches for 105 yards and 1 TD).
Baylor QB Bryce Petty (577 passing yards, 6 TDs, 0 INTs, 32 rushing yards and 1 TD).
UCLA QB Brett Hundley (686 passing yards, 3 TDs and 1 INT, 74 rushing yards and 1 TD).
Dave Miller, the college football editor for the National Football Post, is on Twitter @Miller_Dave.