October 08, 2010 -
Dave Miller
Week 5 NFL picks
Here at the Daily Jolt, we prefer our coffee on the stove top and not from the electric drip machine. We're just old-school that way. Thus, here's what's happening this Friday morning...
The Morning Percolator: 10.8.10
On Friday's during the NFL season, The Morning Percolator becomes your go-to source for NFL Vegas action. Of course, use these selections at your own discretion. I mean, making picks is all about luck anyway, right? Right...
(Selections, based on the point spread of course, are in bold.)
N.Y. Giants (+3) at Houston: Questions about the health of Ahmad Bradshaw and visions of Mario Williams clobbering Eli Manning have me seeing Tom Coughlin pacing the sideline all day long.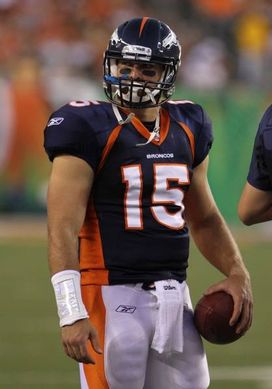 ICONHow much better could the Bills be with Tim Tebow under center?
Jacksonville (Pick) at Buffalo: Two teams rumored to be in the Tim Tebow draft sweepstakes last April are still looking for a suitable signal caller.
Tampa Bay (+6