September 23, 2014 -
Dave Miller
Week 5 NFP Heisman Watch
While it is incredibly early in the 2014 college football season, the Heisman Trophy race continues to heat up. And this week, a few new standout players have entered the fray.
Let's take a look at the early leaders after four weeks of action.
Oregon QB Marcus Mariota: The leader of the Ducks' up-tempo, high-octane offense threw for 329 yards and five touchdowns to help Oregon stave off the Washington State upset bid last Saturday night. He completed 21 of 25 passes and also rushed for 58 yards — despite being sacked seven times behind a battered offensive line. He was interception-free and has recorded 16 touchdowns on the season (13 through the air, three on the ground). The dual-threat signal-caller has a marquee nonconference win over Michigan State, in which he had two critical plays in the third quarter that helped the Ducks extend and score on drives to help erase a nine-point deficit. He is looking like the performer who was right there with Jameis Winston in last year's Heisman Trophy race before being hampered by a knee injury.
2014: 71 of 96 passing for 1,135 yards, 13 TDs and 0 INTs; 33 rushes for 214 yards and 3 TDs.
Georgia RB Todd Gurley: The Bulldogs pulled Gurley from the team's 66-0 rout of Troy last week, so he carried the ball only six times for 73 yards — including a 48-yard run as the 'Dawgs built a 45-0 halftime lead. Sony Michel ended up being the star tailback, rushing for 155 yards and three touchdowns. But Gurley did have 131 yards and a touchdown in the 38-35 setback to South Carolina, which came after his Week 1 performance against Clemson in which he recorded three touchdowns on the ground and took back a kickoff the distance for a score. A "beast mode" Gurley is a very dangerous Gurley. An invite to New York for the Heisman ceremony is possible if Georgia's play-calling doesn't get in the way and if he gets the carries.
2014: 41 rushes for 402 yards and 4 TDs; 5 receptions for -1 yard and 0 TDs, 1 kickoff-return TD.
Texas A&M QB Kenny Hill: After bursting onto the scene in the season opener against South Carolina, Hill only played one half in the Aggies' 58-6 victory against SMU. The team is 4-0 for the first time since 2006, as Hill recorded 322 yards of total offense en route to A&M jumping out to a 38-3 halftime lead against the Mustangs. A bigger test comes this week in Arlington, TX, versus Arkansas. Hill, who shattered Johnny Manziel's school record for passing yards in a game against the Gamecocks, did throw an interception against SMU — his first in 128 attempts this season and the first of his career. Even with the tough SEC slate, Aggie fans can expect more big numbers for Hill.
2014: 97 of 139 passing for 1,359 yards, 13 TDs and 1 INT; 16 rushes for 106 yards and 0 TDs.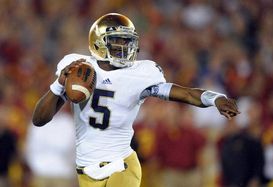 Everett Golson and the Irish will face a difficult slate in the second half of the year.
Notre Dame QB Everett Golson: The Fighting Irish had a bye this past weekend as they enjoy their best start offensively in the Brian Kelly era. The dual-threat Golson has given the team near-flawless play after missing last season due to a suspension. His extensive work in San Diego with quarterback instructor George Whitfield Jr. and his staff has dramatically improved his game. The signal-caller is bigger and stronger this fall and possesses notably improved overall mechanics. He's recorded 11 touchdowns (seven through the air and four on the ground) in three games, but a tough schedule does loom for the Fighting Irish. Golson will need the rushing attack and offensive line to improve against the tougher slate, but he's off to a fantastic start.
2014: 62 of 96 passing for 780 yards, 7 TDs and 0 INTs; 29 rushes for 83 yards and 4 TDs.
Alabama WR Amari Cooper: The star wide receiver for the Crimson Tide continued his torrid start to the season by scoring three touchdowns in the team's 42-21 win over Florida on Saturday. Cooper caught 10 passes for 201 yards and three touchdowns — including a 79-yarder in the first quarter — en route to breaking Dennis Homan's 47-year-old record of 18 career touchdown catches. He now has 43 grabs for 655 yards and five touchdowns on the year. It's very tough for receivers to get Heisman love unless they are standout return men, but new Tide offensive coordinator Lane Kiffin is making sure that Cooper gets a ton of looks. A big test for Cooper looms, though, when the Tide travel to Ole Miss next week because the Rebels have a nasty secondary.
2014: 43 catches for 655 yards and 5 TDs.
Others to watch
BYU QB Taysom Hill (876 passing yards, 6 TDs and 3 INTs; 428 rushing yards and 7 TDs): The Cougars' dual-threat signal-caller threw two touchdown passes and rushed for another score to lead BYU to a 41-33 comeback win over Virginia on Saturday. Hill completed 13 of 23 passes for 187 yards and had 72 more yards on 17 carries. Without their star QB, the Cougars would not be unbeaten.
Florida State QB Jameis Winston (626 passing yards, 3 TDs and 2 INTs; 11 rushing yards and 1 TD): We are all familiar with the defending Heisman Trophy winner's story. He missed the Seminoles' showdown ACC contest against Clemson this past week, and it doesn't appear that he's leaving the spotlight any time soon. His candidacy took a hit because he missed the game against the Tigers, but it also took a hit because of his shaky start in the season opener as well as the fact that some voters may simply have Winston fatigue. Coming into the season he almost had to surpass last year's stats to repeat as the Heisman winner, so it may be tough to even net an invite to New York.
Nebraska RB Ameer Abdullah (625 rushing yards and 5 TDs; 5 catches for 108 yards and 2 TDs): The star Cornhuskers tailback ran for 229 yards to lead Nebraska past Miami (FL) 41-31 on Saturday night and help the team remain unbeaten.
East Carolina QB Shane Carden (1,469 passing yards, 11 TDs and 3 INTs; 19 rushing yards and 3 TDs): The veteran Pirates signal-caller is off to a strong senior season in coordinator Lincoln Riley's offense. There are some less-than-stellar numbers going against Carden — two interceptions in the team's lone loss to South Carolina and the below-50% completion rate against Virginia Tech. But ECU would not have had such a strong start without his play at the quarterback position.
Mississippi State QB Dak Prescott (964 passing yards, 11 TDs and 2 INTs; 378 rushing yards and 3 TDs): The Bulldogs' dual-threat signal-caller has three games with over 100 rushing yards and two games with four passing touchdowns, and he was a key component of the team's upset victory at LSU last week.
Wisconsin RB Melvin Gordon (431 rushing yards and 6 TDs; 5 catches for 27 yards and 1 TD): The star Badger was shut down against Western Illinois but had over 250 yards and 5 TDs in the win this past Saturday against Bowling Green.
Pitt RB James Conner (699 rushing yards and 9 TDs; 2 catches for 20 yards and 0 TDs): The star Panther managed to gain 155 yards a nd rush for a score against Iowa's Top 10 rushing defense last week.
Baylor QB Bryce Petty (577 passing yards, 6 TDs and 0 INTs; 32 rushing yards and 1 TD): The Bears were off this past weekend, but expect big numbers any time Petty is on the field.
UCLA QB Brett Hundley (686 passing yards, 3 TDs and 1 INT; 74 rushing yards and 1 TD): The Bruins were off this past weekend in preparation for their showdown game at Arizona State on Thursday. Is Hundley healthy after getting knocked out of the team's last game against Texas?
Question of the week: Will Oklahoma RB Samaje Perine (34 rushes for 242 yards and 4 TDs against West Virginia) get No. 1 tailback carries even when Keith Ford comes back?
Dave Miller, the college football editor for the National Football Post, is on Twitter @Miller_Dave.