October 08, 2014 -
Dave Miller
Week 7 College Football Playoff projections
There's no doubt that Week 6 of the 2014 college football season will stick in our memories for a long, long time.
Eleven AP Top 25 teams fell, shaking up the pecking order across the country, and the state of Mississippi made sure it took full advantage of being at the center of the college football universe for a weekend.
A few weeks back I offered my projections for the 'New Year's Six' bowl games that are scheduled to take place this season, as seen below:
Wednesday, December 31
12:30 p.m. Peach Bowl
4 p.m. Fiesta Bowl
8 p.m. Orange Bowl
Thursday, January 1
12:30 p.m. Cotton Bowl
5 p.m. Rose Bowl
8:30 p.m. Sugar Bowl
The College Football Playoff, which debuts this season, will feature the top four teams as selected by a 13-person selection committee. The Rose Bowl and the Sugar Bowl will host the first semifinals, which will pair No. 1 versus No. 4 and No. 2 versus No. 3, respectively. The winners of those games will meet in the inaugural College Football Playoff national championship game at AT&T Stadium in Arlington, TX, on January 12, 2015.
If Week 6 was any indication, this committee is going to have an extremely difficult job of selecting the top four teams. With the results of last weekend, did I amend my CFP projections?
Note: One team from the so-called Group of Five (American Athletic, MAC, Mountain West, Conference USA and Sun Belt) will get chosen for either the Cotton, Fiesta or Peach Bowl.
The College Football Playoff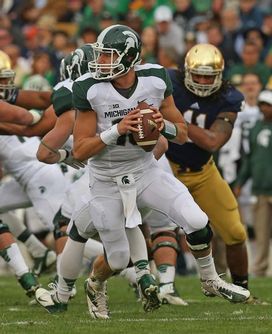 Will Connor Cook and the Spartans reach the inaugural College Football Playoff?
Semifinal—Rose (Pasadena): No. 2 Alabama vs. No. 3 Michigan State
Semifinal—Sugar (New Orleans): No. 1 Florida State vs. No. 4 Oklahoma
National Championship—(Arlington): The winners of the two semifinals meet
The CFP Selection Committee bowl games

Dec. 31 Peach (Atlanta): Georgia (At-Large) vs. East Carolina (At-Large)
Dec. 31 Orange (Miami): Clemson (ACC) vs. Notre Dame (Big Ten/SEC/Notre Dame)
Dec. 31 Fiesta (Glendale): UCLA (At-Large) vs. Auburn (At-Large)
Jan. 1 Cotton (Arlington): Baylor (At-Large) vs. Oregon (At-Large)
I still believe Florida State will run the table despite not quite resembling the team we saw last season. If the Seminoles finish undefeated, they will be the top overall team and earn a spot in the Sugar Bowl. I do think, however, that Notre Dame will compete with the 'Noles when the teams meet in Tallahassee. Speaking of the Irish, I think Brian Kelly's squad has a chance to finish with one loss. However, games with Arizona State and USC, among others, will be difficult.
I am still sticking with Michigan State to make the four-team playoff despite its loss at Oregon. I am projecting the Spartans to run the table, and I think they would get rewarded for playing a very tough nonconference game and playing very well for more than a half of action against the Ducks. However, do not dismiss Ohio State when the Buckeyes come to East Lansing. J.T. Barrett looks very comfortable running that Buckeyes offense.
I am still not the biggest believer in Trevor Knight, but I think Oklahoma can put its loss to TCU behind and still finish with one setback. OU would need to beat Baylor, of course, and the Horned Frogs still have some Big 12 tests to pass.
Ole Miss used its nasty defense to upend Alabama this past week. But if the Crimson Tide can limit their turnovers and special-teams mistakes, the Tide can run the table because the schedule is not the worst in relation to other SEC teams. While Mississippi State and Ole Miss look great, I think each team could still lose a few games. The SEC is still too tough of a week-to-week grind for those teams, in my opinion.
Georgia Tech would get the ACC's Orange Bowl slot if the season ended today, but I ultimately believe that Clemson will get awarded that spot. The Tigers have a strong defense, and true freshman quarterback Deshaun Watson is going to be a star.
Finally, I switched out Cincinnati for East Carolina as the AAC champion after the Bearcats' 27-point loss to Memphis.
The weekly releases of College Football Playoff rankings will debut soon, on October 28, and be subsequently unveiled each and every Tuesday night thereafter. The four teams ultimately selected to participate in the semifinal matchups will be announced on the weekend of December 7.
Certainly things will continue to get more interesting as well as messier as we head into Week 7.
Dave Miller, the college football editor for the National Football Post, is on Twitter @Miller_Dave.