December 17, 2010 -
Dave Miller
Weekend at the Movies
Here at the Daily Jolt, we prefer our coffee on the stove top and not from the electric drip machine. We're just old-school that way. Here's what's happening this Friday morning...
One word: Wow. That is the only way to describe what I witnessed on screen Thursday evening as I was finally able to watch Black Swan, a film that I was eagerly anticipating for months.
The Darren Aronofsky film, which opens nationwide Friday but was first available to audiences in Chicago during the Chicago International Film Festival this past fall, is a psychological thriller starring Natalie Portman as Nina, a dancer in a New York City ballet company who finds herself worrying about the actions and motives of a fellow dancer, played by Mila Kunis.
The fact that Portman and Kunis share the screen is really all you need to know about the film.
Along with the fact that they share an intense scene that can be described as, well, sexually charged.
Now in a Chicago Tribune interview a few weeks back, Kunis in so many words said it's a shame that people are coming away from this film talking only about the sex scene. Let me state that the picture is great with or without the hookup between the Portman and Kunis characters. It truly is great and I urge everyone to see it.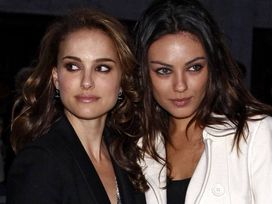 Natalie Portman and Mila Kunis star in Black Swan.
But since the National Football Post and Daily Jolt audience happens to skew more toward the male demographic, I must state that if your girlfriend or wife asks you to see the film with her this weekend, please accept the invitation immediately and without dragging of the feet. It's a great movie. And that scene is oh so delicious. Seriously.
It's a thrilling, terrifying, disturbing, funny and sexy film.
Especially sexy.
One other big-name actress in this film is Winona Ryder, which brings us to the second item of the day.
• The 39-year-old actress told GQ that she remembers Mel Gibson being at a big Hollywood party roughly 15 years ago where he was really drunk — shocking, I know — and he happened to make "a really horrible gay joke." The actress adds, "And somehow it came up that I was Jewish. He said something about 'oven dodgers,' but I didn't get it. I'd never heard that before. It was just this weird, weird moment. I was like, 'He's anti-Semitic and he's homophobic.' No one believed me!"
Well, I think I'm buying whatever Ryder is selling from now on.
• The other movie opening this weekend that I plan on seeing is The Fighter, the Mark Wahlberg vehicle about boxer "Irish" Micky Ward's underdog life as a fighter and his unlikely road to a world title. Think a grittier version of Rocky. The movie looks intriguing just from a dramatic standpoint, but the fight scenes don't look half-bad, either.
Based on the trailer, Christian Bale's performance as half-brother Dicky, a boxer-turned-trainer who battled addictions to drugs and crime, could be worth the price of admission by itself. Bale has done an incredible job throughout his career of truly transforming himself into his character, and it looks as if he's done it again in this one.
• Two quick wrestling notes…
WWE Champion The Miz, who was never considered championship material upon arrival in the WWE after appearing on MTV's Tough Enough, is definitely over with chairman Vince McMahon. The Miz is on a media blitz right now, working round-the-clock — including on his days off. Not only has he been doing interviews set up by WWE's publicity department, but he's doing a lot of promotion on his own. He knows that there are big-name stars, notably Triple H, who are waiting for him to fail. But I don't think he will, because The Miz truly is awesome.
Also, congratulations to TNA's Hulk Hogan, who was married for the second time on Tuesday. The megastar wrestler wed Jennifer McDaniel at his Clearwater Beach home in a small, private ceremony. Hogan's children from his previous marriage, Brooke and Nick, were both present.
Follow the Daily Jolt on Twitter: Daily_Jolt
The Daily Jolt is a section of the National Football Post that serves as a one-stop shop for all things football, sports, pop culture and everyday life.
The section's editor, Dave Miller, also writes the Against the Grain college football column for the NFP. When he isn't putting coaches on the hot seat, he can often be found daydreaming of hanging out on set with Natalie Portman and Mila Kunis. You can follow him on Twitter at Miller_Dave.