August 04, 2014 -
Dave Miller
Weekend camp notebook: Kiffin excited to be at 'Bama
With the start of the 2014 college football season on the horizon, let's take a look at some notable happenings from camps across the country over the weekend...
Alabama: New offensive coordinator Lane Kiffin held court with reporters for about 15 minutes on Sunday morning, and there was very little new information to come to light. Kiffin is fitting in nicely, overseeing head coach Nick Saban's familiar pro-style system. Saban approached Kiffin seven years ago about an assistant job in Tuscaloosa, but Kiffin ended up staying at USC. Now, he is finally with the Tide, and he inherited some nice weaponry on offense, including wide receiver Amari Cooper, running backs T.J. Yeldon and Derrick Henry as well as tight end O.J. Howard. This is a very deep pool of talent on the offensive side of the ball, but there's no question that Kiffin will lean on Cooper and Howard in the passing game and look for ways to get those players in space. There will be two new starters on the offensive line (a true freshman could start at LT) and all eyes will remain on Jake Coker, who had a better second practice than his first, as he tries to hold off dual-threat Blake Sims for the starting job. Expect that derby to last deep into camp, although all expectations are that Coker will ultimately start the opener against West Virginia. Meanwhile, on defense, coordinator Kirby Smart said the No. 1 priority for his unit this year is learning to defend up-tempo offenses better.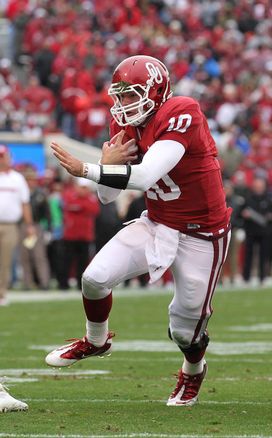 US PRESSWIREBlake Bell has made the move to tight end.
Oklahoma: When head coach Bob Stoops was not making noise once again with comments regarding the SEC, he discussed the development of Blake Bell, who is making the switch from quarterback to tight end. Bell said he loves the position change and is "having fun with it," but he admitted that the biggest challenge is "having to block guys in the trenches and getting the stance right before the snap." Bell said he elected to stay in Norman and not transfer because he "really wanted to come back and help win a Big 12 and national championship." His head coach does not see any reason why Bell won't succeed at the new position. "There's too much speculation on, 'Will he be any good there?' He's really good there, and why wouldn't he be with the athleticism and size. If he was 6-foot, 210 pounds you'd figure out why it can't work, but he looks like he's played it his whole life."
Notre Dame: It was announced through a statement on Sunday that offensive coordinator Mike Denbrock recently had surgery and will miss the first few weeks of preseason camp. Head coach Brian Kelly will assume the OC duties during Denbrock's recovery. In the statement, Kelly said his assistant "is doing extremely well and everyone associated with the program looks forward to his return." Denbrock was promoted to OC from receivers coach after Chuck Martin left to become head coach at Miami (OH). Kelly already planned to be more hands-on with his offensive unit this fall, so there shouldn't be any hiccups with Denbrock's temporary absence. While Kelly maintains that the quarterback battle is real between Everett Golson and Malik Zaire, everyone I talked to this offseason believes that Golson will be the starter in Week 1. And he could be poised for a huge season.
Texas: Head coach Charlie Strong continued to put his stamp on the Longhorns program, announcing Sunday that he has suspended three more players for an undisclosed violation of team rules and that the trio will miss game time. Receiver Daje Johnson, offensive tackle Desmond Harrison and safety Josh Turner were all suspended. "I say it all the time," Strong said. "If a young man doesn't want to be a part of this program, just go break a core value. Then you're telling me exactly where you want to stand." The core values are that players must be honest and treat women with respect, and there will be no tolerance for drugs, stealing and guns. Strong confirmed that running backs Joe Bergeron and Jalen Overstreet as well as defensive back Chevoski Collins were released from their scholarships last week. He also confirmed that receivers Kendall Sanders and Montrel Meander were gone from the program for good. So in all, Strong has dismissed seven players and suspended three more since his arrival. Meanwhile, at quarterback, David Ash is currently the starter, with Tyrone Swoopes as the backup and freshman Jerrod Heard as the No. 3 as camp begins.
Also:
* Brandon Carter is no longer on the official TCU roster, so he is done with the program. The receiver had 90 catches for 1,312 yards and nine touchdowns in three seasons, with his best year coming in 2012 (36 grabs for 590 yards and six touchdowns). Carter had taken a leave of absence last season, dealt with academic issues and was later arrested for marijuana possession.
* Air Force has opened an investigation into its athletic programs after it was reported that drug use and sexual misconduct occured at parties. In addition, superintendent Lt. Gen. Michelle D. Johnson said all coaches must place a higher emphasis on character in the recruiting process.
* Nick Marshall won't start the season opener against Arkansas, but I wouldn't expect the Auburn signal-caller to miss too much of the game. However, the Tigers staff is high on backup QB Jeremy Johnson.
Dave Miller, the college football editor for the National Football Post, is on Twitter @Miller_Dave.