August 11, 2014 -
Dave Miller
Weekend camp notebook: UCF's replacement for Bortles
With the 2014 college football season on the horizon, let's take a look at some notable happenings from camps across the country over the weekend...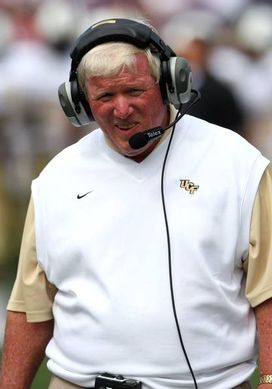 ICONUCF head coach George O'Leary needs to find a replacement for Blake Bortles.
Central Florida: First, the Knights were in the news because a report surfaced on Saturday that George O'Leary was planning to step down as head coach, possibly as early as after the first game of this season. After dismissing that report, O'Leary told the media on Sunday that redshirt freshman Pete DiNovo would be the starting quarterback if the team was to play its season opener against Penn State today. While the competition to be the replacement for Blake Bortles is not done, DiNovo has the edge over sophomore Justin Holman, who was considered the favorite to take over for the new Jacksonville Jaguars quarterback. Boise State transfer Nick Patti and true freshman Tyler Harris are also competing for the job, which appears to be the Tampa native DiNovo's to lose after redshirting last season for the American Athletic champs.
USC: The Trojans took a hit in their defensive depth when it was learned that sophomore Jabari Ruffin, who was a projected starter at outside linebacker, will miss the season with a torn ACL. Ruffin started one game last season but saw plenty of action in his redshirt freshman campaign, and he was primed to have a breakthrough season this fall. Steve Sarkisian's squad doesn't have great depth at linebacker as it plans to use a 3-4 this season. Converted defensive end J.R Tavai is expected to play outside linebacker and join sophomore Scott Felix as a starter, but sophomore Quinton Powell is the only other outside 'backer with extensive experience. The staff could decide to play inside 'backer Lamar Dawson more on the outside to make up for the lack of depth. Sark has seemingly been extra cautious with some players in camp due to the limited numbers, as defensive tackle Leonard Williams, wide receiver Darreus Rogers and ATH Adoree Jackson sat out Sunday's practice.
Wisconsin: Could second-year head coach Gary Andersen name Joel Stave the starting quarterback sooner rather than later in Madison? Stave completed 9-of-17 passes for 115 yards with two touchdowns during the team's scrimmage on Sunday, while dual-threat Tanner McEvoy was 4 of 7 through the air for 40 yards. Andersen knows what he's getting with Stave, who needs to limit his mistakes and be more consistent if he wins the job. While McEvoy gives the team another dimension because of his legs, the Badgers may opt for a safer option under center with the team having such a strong run game and with the tough opener against LSU looming.
Also:
* Ohio State head coach Urban Meyer met with reporters on Sunday and mentioned safeties Tyvis Powell and Vonn Bell as two of the standouts at the Buckeyes' camp thus far. This is great news for a team that struggled mightily against the pass in 2013. At Big Ten Media Days, Meyer praised the work of Chris Ash, whose priority as new DC has been to fix the pass defense woes from last year.
* Washington is still looking for a new starting quarterback, as redshirt freshman Troy Williams and sophomores Cyler Miles and Jeff Lindquist continue to share snaps evenly for head coach Chris Petersen and offensive coordinator Jonathan Smith. The Huskies will scrimmage on Monday, so it will be interesting to see if one of the signal-callers gets the upper hand. Keep in mind that Miles has been suspended for the season opener against Hawaii, but he had been the favorite to replace Keith Price as the starter.
* The Max Wittek-to-Hawaii story still won't go away. The former USC quarterback, who seemed destined to land at Texas before it was determined that he wouldn't receive his undergrad degree from USC until December, could play immediately if he does get his diploma. If not, he would have to sit out the season. If Wittek does enroll at Hawaii, the graduate transfer would compete with sophomore Ikaika Woosley and senior Taylor Graham. But time is running out before the season starts, and Wittek's future has been in limbo all throughout the offseason.
* Judge Claudia Wilken ruled against the NCAA in the Ed O'Bannon case late on Friday, stating that student-athletes are entitled to get compensation for use of their name, image and likeness under antitrust law. She noted that they can begin receiving revenue on July 1, 2016. Of course, the NCAA plans to appeal the ruling.
Dave Miller, the college football editor for the National Football Post, is on Twitter @Miller_Dave.