January 28, 2013 -
Dave Miller
Weekend recruiting notebook
This past weekend was certainly noteworthy on the recruiting trail, as it marked the next-to-last official visit weekend of the 2013 cycle.
Let's take a look at some of the most important stories to come out of the final weekend in January.
• Georgia defensive end/outside linebacker Davin Bellamy made a commitment to Florida State last August, but he is still taking some official visits. He was in Athens this past weekend after visiting Tennessee a week before, and he very much remains in play for Georgia. Seminoles head coach Jimbo Fisher is scheduled for an in-home visit this week, but it looks like he will have to really work to get the athletic Bellamy to come to Tallahassee.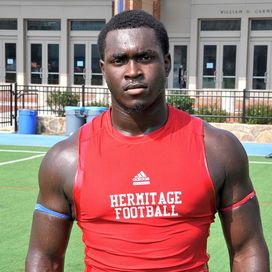 RB Derrick Green is taking his talents to Ann Arbor to play for the Wolverines.
• Five-star Virginia running back Derrick Green made it official on Saturday by committing to Michigan over Tennessee and Auburn as many had expected. The 5-11, 235-pound bruiser with very good speed and explosiveness is a great match for Brady Hoke's program, as the Wolverines desperately needed a No. 1-type RB. The Al Borges offense should suit him and fellow commit DeVeon Smith very well in the backfield, and both could end up being big parts of the 2013 offense. But it's Green who is the gem of the class because the downhill power back represents exactly what Michigan wants to do in its pro-style offense.
• Five-star Florida cornerback Mackensie Alexander's recruitment remains arguably the biggest mystery of 2013. He arrived at Auburn for an official visit this past weekend, and the trip was said to go very well. It is interesting that although Clemson has been high on Alexander's list, new Auburn defensive backs coach Charlie Harbison came to Gus Malzahn's staff from Clemson. Will that be enough for Auburn?
• Five-star Alabama linebacker Reuben Foster will either land at Auburn, Georgia or Alabama. He was in Athens for an official this past weekend, and he surprisingly said he would commit a week from today -- before National Signing Day. He was once committed to Auburn, and I just feel that he ultimately will be the gem of Malzahn's first class with the Tigers. And while he is scheduled for an official to San Diego State, it's obviously very doubtful that he ends up as an Aztec. Who can blame him from tripping to San Diego, though?
• With Hugh Freeze amazingly putting together a Top 10 (and possibly higher) class at Ole Miss, it came as no surprise that in-state defensive end Chris Jones visited Oxford despite being committed to Mississippi State since June. We knew that it would be tough for Dan Mullen to ultimately beat out other top SEC schools such as Alabama and Florida for Jones' Letter of Intent, but the Rebels have now swooped in. Don't underestimate the influence of Freeze or top overall prospect Robert Nkemdiche, who was also in Oxford for his official visit this weekend.
• Keep an eye on Arkansas under new head coach Bret Bielema. The Razorbacks received a commitment from safety De'Andre Coley over the weekend, and Coley is from a Miami Northwestern program that annually produces top talent. The Hogs also received a commitment from Florida defensive tackle Ke'Tyrus Marks, while Florida offensive lineman Denver Kirkland also visited this weekend. But the big fish is Florida running back Alex Collins, who is considered a Miami (FL) lean. But Bielema recruited him while he was at Wisconsin, so the Hogs are a darkhorse candidate for Collins. Bringing along defensive line coach Charlie Partridge, who is a Fort Lauderdale native, from Wisconsin was certainly a great move for the former Badgers head coach.
• Speaking of the Badgers, new Wisconsin head coach Gary Andersen is doing well retaining the recruits he inherited from the previous staff. And he received a pledge Saturday from linebacker Leon Jacobs, who originally committed to Fresno State. Wisconsin has only two California players on its roster, so Andersen could bring some West Coast swagger to Madison and use his West Coast ties to bring in some more athletes to the program.