August 06, 2014 -
Dave Miller
What autonomy would mean for the 'Power Five'
The NCAA's Division I Board of Directors will vote on Thursday whether to give the Power Five conferences (SEC, Pac-12, ACC, Big 12 and Big Ten) autonomy, which would allow the leagues and their commissioners to pass desired legislation on their own terms moving forward.
So what does that mean for the future of college football?
Let's take a look.
What exactly would autonomy entail?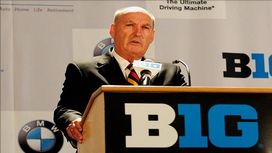 US PRESSWIREIf autonomy is passed, Jim Delany and his other Power Five commissioners would be playing by their own rules.
Power Five conferences want to have decision-making power in regards to issues facing their student-athletes, and the ADs within the leagues want more say in governance. The big conferences have desired to enact measures such as provide full cost of attendance and revamp recruiting rules in order to better serve their student-athletes. Members of the power leagues want to pass such measures because they have much better resources and more money than smaller conferences so they can better afford to do so. Huge television deals have delivered a ton of money to college sports in recent years, so the Power Five desire its own legislative process outside of the other 27 D-I leagues. Keep in mind that NCAA president Mark Emmert tried to pass legislation a few years ago that would have allowed schools to give a $2,000 stipend to student-athletes to cover expenses beyond tuition and room & board. However, nearly half of the roughly 350 D-I members voted against it because a lot of the smaller schools didn't think that they could afford it. With autonomoy, the Power Five schools could adpot such change and not get voted down. It is important to note that conferences outside of the Power Five can institute any change that gets approved through this vote for autonomy or allow a member school to do so at its individual institution. It will be interesting to see if this becomes applicable in leagues such as the American Athletic or Mountain West.
Examples of potential increased assistance for student-athletes
According to the proposal, the Power Five would have the chance to vote on change in the following areas: financial aid, health and wellness, meals and nutrition, expenses and benefits, career pursuits, insurance and career transitions, time demands, academic support, recruiting and personnel. No matter the reason for such changes being sought now and not years ago, all of this would benefit the student-athlete in a collegiate environment that has increasingly been cast in a negative light as it gets further exposed as big business.
Will it be granted?
Autonomy is expected to be granted, re-organizing the governance structure, because the smaller conferences understand that they can't afford for the Power Five to completely break off and essentially create their own rich playground. When someone as powerful as SEC commissioner Mike Slive is as vocal about something as autonomy, he gets what he wants. Slive has threatened that the major conferences would have to break away from the NCAA if they didn't get autonomy, but that was merely a ploy to get the Power Five's proposal enacted, which is expected to occur. Hypothetically, however, if 75 schools outside of the Power Five vote it down on Thursday, the NCAA's board would have to reconsider autonomy. If 125 disapprove, then these potential changes would be suspended until some sort of a resolution is reached.
When would autonomy begin?
After the vote on Thursday, the steering committee would allow the Power Five until October 1 to submit a first proposal with some of their ideas for change. That is when the new Board of Directors would be named as well. It is possible that some of these changes could be enacted by the time the NCAA convention rolls around this coming January. Meanwhile, the Board of Directors is expected to include a legislative council that will grant power to athletic directors, as well as voting athletes. Those groups will join the presidents that oversee Division I.
* For more details on Thursday's vote, check out the official report.
Dave Miller, the college football editor for the National Football Post, is on Twitter @Miller_Dave.