September 13, 2013 -
Dave Miller
What does Alabama have in store for Manziel?
With the game everyone has been waiting for since last season just a few days away, let's take a look at what Alabama head coach Nick Saban, defensive coordinator Kirby Smart and the Crimson Tide defense may have in store for the team's contest against Johnny Manziel and Texas A&M in College Station.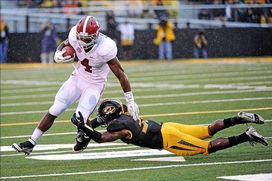 US PRESSWIRET.J. Yeldon could be primed to have a big game in College Station.
Expect plenty of T.J. Yeldon and Co.: All of the talk about Georgia's Todd Gurley being the best running back in the country has been legit. His big runs against Clemson and South Carolina proved as much, especially because the sophomore back was playing at well below 100 percent. But because he didn't have a great game against Virginia Tech in the opener, Yeldon has seemingly taken a back seat in the current national conversation about the best tailbacks. That should end this weekend. The Crimson Tide will look to exploit an Aggies run defense that has looked porous this year, as it struggled against Rice and Sam Houston State. A&M allowed 240 yards on the ground last week to the Bearkats. I know that the Aggies defense was missing several starters throughout the first two games, but it's not going to be a strength this season. And behind Yeldon, Jalston Fowler and young backs Alton Tenpenny and Derrick Henry, the Tide should be able to move the chains and keep the A&M offense off of the field. The ground attack will also open up the vaunted 'Bama play-action pass game. This is a perfect spot for Yeldon to enter the early season Heisman Trophy conversation.
An improved offensive line: The Tide broke in three new starters along the offensive line in the season opener against Virginia Tech, and it did not fare very well against Bud Foster's stout front seven. Junior left tackle Cyrus Kouandjio, junior left guard Arie Kouandjio, sophomore center Ryan Kelly, senior right guard Anthony Steen and junior right tackle Austin Shepherd could only pave the way for the Tide offense to rush for 96 yards on 38 carries one year after the team averaged 226.5 yards per game on the ground. So new offensive line coach Mario Cristobal certainly had his hands full during the team's bye week. Improved communication is needed for the unit, which really only occurs through actual game reps. Since an O-Line needs to work as one, was one game and additional practice time enough? It helps that Virginia Tech may be the best front the team sees on the regular season slate, with the exception being perhaps LSU. A&M, meanwhile, isn't exactly the most stout front. The Aggies have given up an average of 273 yards on the ground in their first two games, although linebacker Steven Jenkins and defensive end Gavin Stansbury will be back from suspension. Creating holes for Yeldon and the Tide's backs is crucial, but so is protecting quarterback AJ McCarron, who was sacked four times against the Hokies.
Using a linebacker to spy on Manziel: The most challenging aspect for defenses when playing A&M is stopping a spread passing team that can effectively run the football. The Tide defenders need to make sure that they remain disciplined on pass plays so Manziel will stay in the pocket and not take off on the edge. The problem is that Manziel has improved as a passer after a summer of work with QB guru George Whitfield. It will be interesting to see how often A&M goes empty in the backfield and whether the Tide put an extra safety deep when going in man-to-man coverage. 'Bama would prefer not to have its second safety be an extra defender in the box. Keep an eye on where linebacker C.J. Mosley is lined up. The inside 'backer runs very well, so he is adept against the run and pass. Fellow linebacker Adrian Hubbard will also be on the spot because he will be asked to be a key component against the zone-read and make sure Manziel does not get outside on the edge. The versatile Hubbard should line up both at outside and inside linebacker as well as defensive end.
Of course, stopping Manziel is easier said than done. But Saban and his staff will have had an entire offseason to devise a game plan that would help limit Manziel's effectiveness. We'll see what they have been able to come up with when the teams meet on Saturday afternoon.
Dave Miller, the college football editor and writer for the National Football Post, is on Twitter @Miller_Dave.